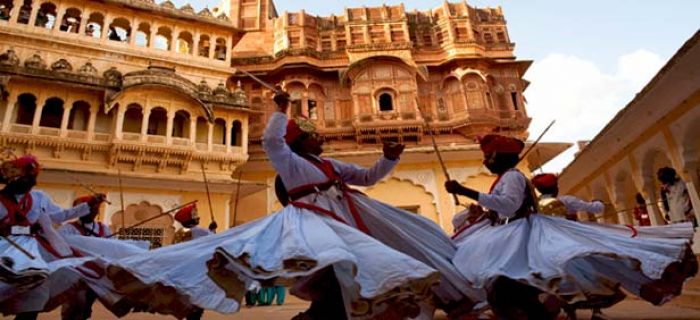 Jodhpur is the second largest city in the romantic state of Rajasthan. Situated along the periphery of Thar Desert, this glorious city was founded by Rao Jodha. There are many prime attractions inviting a flurry of tourists to explore the valleys of the region. Mehrangarh fort is one of them.

This year a dynamic International Festival has been organized at the Mehrangarh Fort, enlivening different forms of folk art and dance. This is the sixth edition of Jodhpur RIFF on Saturday.

This revolutionary dance festival has stunned many Rajasthani Folk dancers and they were spellbound to participate in the event. Various dance forms have been showcased on the second day of the festival, depicting the art of various cultures and traditions. The dance forms included Chakri, Dhol-Thali, Bhawai, Gair, Bhopa and Kanhaiya Nritya, all greatly influencing and entertaining the masses.

The aim of organizing this festival is to portray the different art of Rajasthan to enliven the rich cultures of the land. The magnificent fort served as a stage to the various performers which started at about 11 am and further continued till 5 pm.

The Rajasthan Folk Festival began with the devotional performance belonging to Bhopa Bhopi by Bhanwari Devi and Patashi Devi in the calmness of dawn at the glorious Jaswant Thada situated beside the fort.

Thereafter, it was followed by another live performance known as Dusk Devotion in which many singers and Tandura players from Meghwal community showed their talent. Maand singing by Jamali Bai from Bikaner added sparks to the event. There were also other performances by Dayaram by Merta in collaboration with Didgeridoo played by Mark Atkins and soothing rhythms of Grupo Cimarron from Colombia added more charm to this ethnic dance festival.

The beautiful day ended with the traditional Rajasthani Quawali, sung by Ghulam Hussain from Jaipur and DJ mps Pilot from the Netherlands made the people fall in love with the historic culture of Rajasthan.