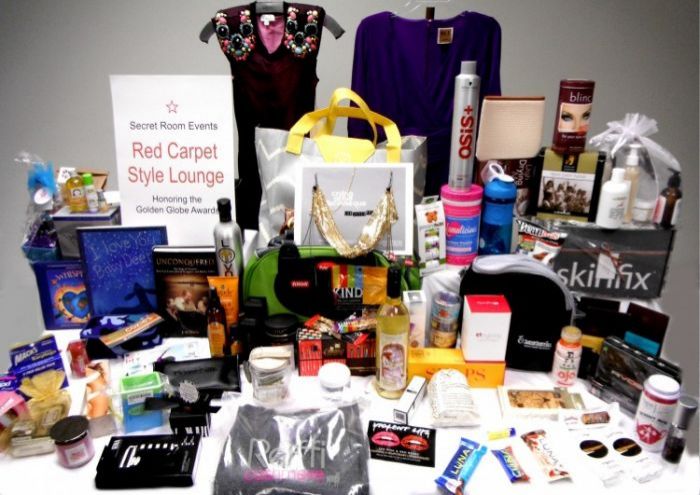 Courtesy of Secret Room Events
Hollywood awards season 'tis the season for the year's best celebrity gifting suites, those behind-closed doors events across Los Angeles, where designers share their newest fashion pieces, accessories, and beauty products with nominees and VIPs. That's where a lucky few get a sneak peek of the newest trends before they make their grand debut, worn by celebrities on the red carpet at the Academy Awards, the Grammy Awards, and the Golden Globes.
The Secret Room Event in honor of the 2013 70th Annual Golden Globes is a perfect example. Operated by Rita Branch and Amy Boatwright, it took place in the Albert Ballroom of the SLS Hotel Beverly Hills, and attracted a day-long parade of celebrities anxious to get a sneak peak at new luxury items from dozens of unique companies, products and service providers. Lucky guests – including young Hollywood stars from "Twilight," "Glee," and classic film celebrities such as Alfred Hitchcock's leading lady, Tippi Hedren -- were treated to luxury gifts from exotic resort vacations and high end jewelry to hip and trendy products for skin, hair, babies and pets.
For good karma, the event benefitted To Write Love on Her Arms, a non-profit movement dedicated to presenting hope and finding help for people struggling with depression, addiction, self-injury and suicide. And for a fresh POV, Caribbean Living magazine offered hosted resort stays for guests including Sophie and Nick Simmons -- daughter and son of Kiss' Gene Simmons and stars of A&E's show "Family Jewels" -- who had a difficult time deciding between two coastal Mexico destinations.
Evening dresses were provided to nominees by Stokes Thompson Designs Australia, Tarik Ediz, & Nue by Shani dresses faaturing built-in body-shaping. All VIPs were treated to beautiful hand-crafted, one-of-a-kind necklaces and earrings by Lita Sea Glass Jewelry; a rainbow of options from chiconomical Shany cosmetics; award-winning Blinc brow and lash mascara; Vita Liberata's luxurious self-tanning skincare system; LuLu Blossom; ProDermagenix anti-aging, anti-wrinkle skin reparing skincare; Kix'ies fashion-forward thigh-highs; Mediel Laboratory's impressive skin correcting serum; SkinFix's problem-solving line of balms and pastes to sooth and restore healthy skin for babies, adults, pets, and even the newly-tattooed; Agadir's excellent salon-only haircare products; Eternna Cosmetics anti-aging skincare; Indigena organic skin and hair products, including muscle-pleasing mineral soaks; Pet Health Labs' thoughtful dog and cat vitamins; RivoSig eCigarettes to help smokers break the habit; Dressed 'N-Case's cleverly packable dress-in-a-bag collection; Dermaesthetics Beverly Hills cosmetology products for professional estheticians; and Schwarzkopf's brilliant Osis line of professional hair styling products.
"High School Musical" star Kaycee Stroh was one of the celebrities enjoying the Baby Lounge. Happily showing off her baby bump, she strolled the aisle, checking out the SnoozeShade baby stroller covers; Mamalicious By Bliss nutritional supplements; Skin Fix healing creams for baby and mom; Betty Boop t-shirts and toys; Born 4 Couture bejeweled childrens-wear; Shoosha Truly Organic's truly lovely lavender baby lotions, creams and oils; and Pickybunny up-cycled children's clothes and their new line of chic designs delivered by monthly subscription.
Select guests also received a gift bag with goodies from Star Naturals, Maddie and Sophie, Tilth Beauty, Raffilinea Vomo Raffi Cashmere, Bites Of Bliss, Macks hearing protection, Make My Day Beautiful professional makeup & skin care, Schroeder & Tremayne, Natural Vines, AEOS-Active Energised Organic Skincare, Metro Paws, Derma Silk, GiGi Imagines, One Step Ahead, PurestPets, Sena Cases, LuLu, Sella All Natural Skin, Naturawl Baby, Mono & Me, WE-Vibe, Banane Taipei, Pink Heart Paperie Invitations, Petit Pois, Snuggleberry Baby, The Container Store, Violent Lips, and Mybody skincare.
Courtesy of Lita Sea Glass
Lita Sea Glass jewelry
Courtesy of Secret Room
Secret Room Events hostess Rita Branch with Nick Simmons
Courtesy of Secret Room Events
Betty Boop and Bold & the Beautiful star, Adrienne Frantz
Courtesy of Tarik Ediz
Tarik Ediz evening wear
by Vicki Arkoff
Secret Room Events main gifting lounge