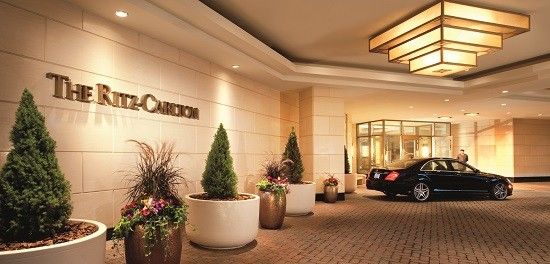 catchcarri.com
When someone thinks of Denver, luxury isnít usually what first comes to mind. This is a city built around the outdoors, local breweries and emerging neighborhoods each with their own style and flair. After all, in the Mile High you can get away with dining and cocktailing just about anywhere in workout clothes or post yoga. And I love thatóbut sometimes you may just want to live it up. And with hotels like the†Ritz-Carlton†you donít need to jet set or cruise west on 70 towards a ritzy mountain town to get your fix.
If you really want to elevate classiness at the Ritz, upgrade to Club Level. For guests that splurge, you will find a dining enclave filled with a warm breakfast come morning that stays stocked with small bites and apps through the day. You may plan on buzzing in for a quick bite but the staff is so welcoming you may find yourself looking out through the open windows wine, beer or cocktail in hand with plans suddenly forgotten. Thatís no problem since Wi-Fi is complimentary, just ready for you to enjoy a work-day from the comfort of your Ritz room. Of course, if you do have a schedule to keep, take a box of goodies to go. Donít forget to top it off with a house made peanut butter cookie. Or, if you want to save your sweet tooth come back past 8 for candies and cordials.
And donít worry about the sugar keeping you up- with beds with a cloud like feel donít plan on starting out with an ambitious morning. Inside and outside the rooms you will find everything that makes the Ritz a five star experience- spacious rooms, coffee/tea/cappuccino makers, delicious dining (Elwayís) a fully equipped business center and easy access to Denver and surrounding areas.
Plus, since this is the city of fitness you may want to check out the hotel gym-†Tru Fit†which is a membership gym open to hotel guests. This means a massive gym filled all sorts of equipment, a rock climbing wall and no stuffy gym tucked in the corner of the basement.
Pricing: Rooms start at $289. Club Level Pricing $200 for weekends and $150 weekday (2 person)
Carriís Catch: On Club Level, ask for the Douglas, a specialty drink made and named for one of the Club Level team members who has been with the Ritz for 30 years. Douglas tells the story like thisÖa group came in one night looking for White Russians but the ingredients werenít all on hand so he improvised. Mixing coffee, with amaretto, Baileys and Grand Marnier became a staple after the group came back the next day thirsting for more. Word spread about the warming concoction and itís become a secret treat for those in the know.† On club level, chances are you will run into Douglas who will eagerly make sure you have everything you need. And also make you wonder why a vacation must end.
catchcarri.com
Ritz-Carlton Hotel
catchcarri.com
Ritz-Carlton Hotel
catchcarri.com
Ritz-Carlton Hotel
catchcarri.com
Ritz-Carlton Hotel
catchcarri.com
Ritz-Carlton Hotel