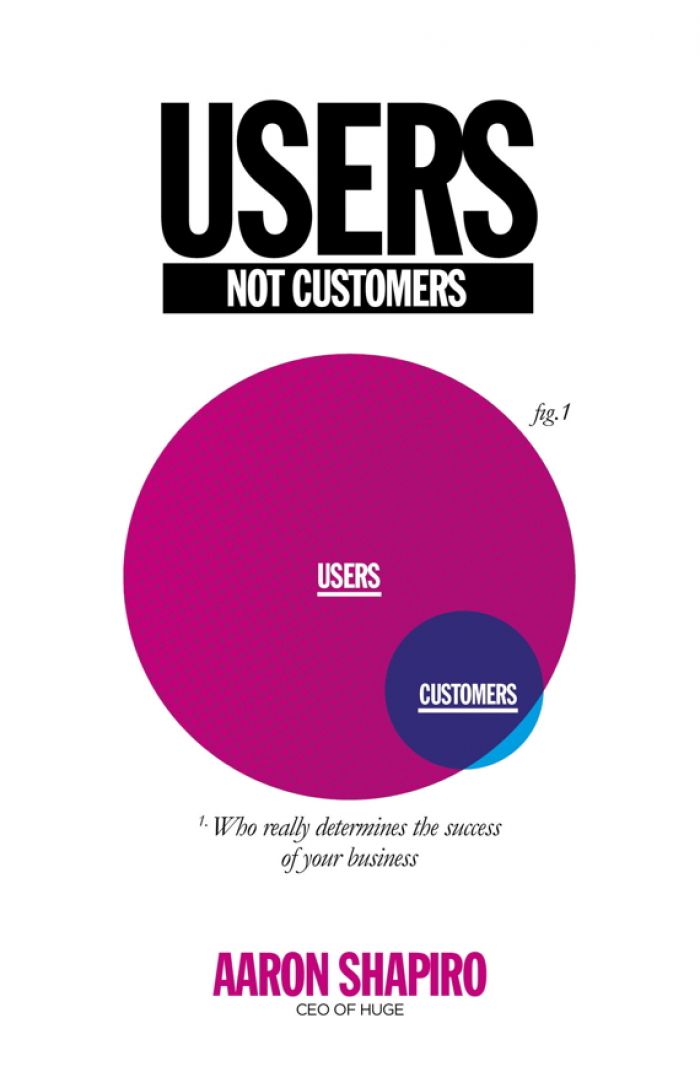 Aaron Shapiro,
the head of interactive design agency Huge
, has done a lot of thinking about what makes good companies great. This book is the result of years of consulting and thought leadership distilled into a simple philosophy: true market leaders focus on meeting user needs above all else. Who are users? They are customers, employees, job candidates, brand fans, members of the media, business prospects, partners, and anyone else who interacts with the brand using media or technology.Shapiro's theory is that by focusing on this broader user base you will naturally attract more customers.
So what do users want? It starts with simplicity. Brand awareness comes not through traditional advertising but through helping users quickly accomplish their task-related objectives. Usability is key because no one will discover how great your product is if they can't figure it out. Every step needs to be an intuitive and frictionless experience online because increasingly interaction through software is business at its most efficient. Site analytics can help determine what users search for and when they leave the site, so that a company website can be configured for maximum ease of use. Shapiro recommends a concentric business model with a single easy-to-use digital core.
Shapiro acknowledges that the transition to a user-centric model isn't always an easy one and provides several different strategies, along with real-life examples, to prove they it is possible for even the stodgiest of companies to evolve. It also doesn't mean starting from scratch, Shapiro explains APIs and disposable technology in clear terms that don't require coding knowledge to understand.
The overall message here is to think about what the user wants first and what you can sell them second. The most successful brands sell a lifestyle or a desire first, the goods themselves are almost incidental. It is also about meeting user expectations. Users come to the Internet for two reasons, either to accomplish a task or discover something new. Some brands such as Google or Amazon.com are filters, connecting people with the products and services they are searching for. Others are destinations, usually media/content sites that users come to as an endpoint not a way station. They share a common goal, provide the best experience possible.
For the urge to purchase what matters is balance of trust, convenience, price and fun. Sites that combine self-service ease with high touch customer service are the most popular with today's users. Technology even at its most adept, is still only at full potential when paired with a human sensibilities of design and intuition. What Shapiro teaches in this slim but substantive book is that technological innovations must always deployed with the user in mind.