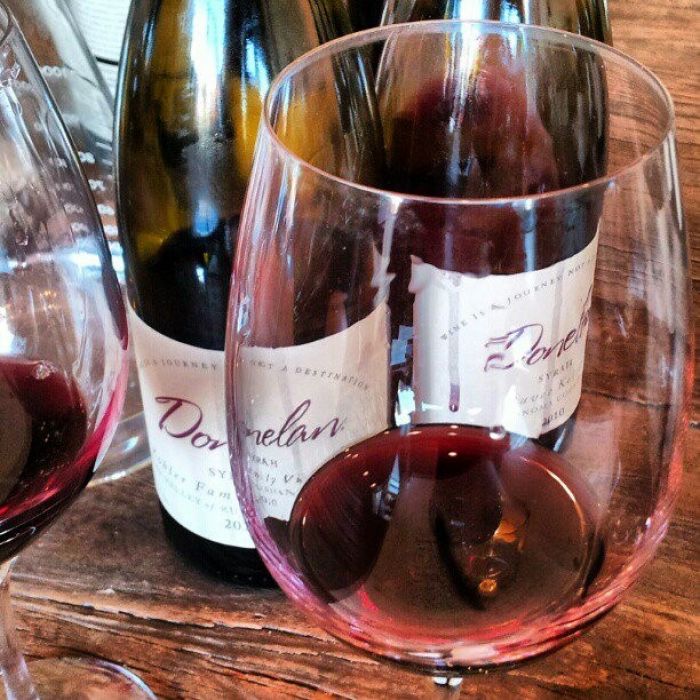 Donelan Wines
We are in the midst of a blizzard here in Boston right now so what better way to celebrate having to stay indoors all weekend? Meet your new best friend: Donelan Wines Cuvee Moriah.
Whether you decide to pair it up with a delicious pasta dish or simply want to sip on a glass with some cheese while watching a video, you will love this lighter bodied wine that includes herbs de Provence — a parsley, sage, rosemary and thyme blend, similar to what is often used in stuffing.
Donelan Family Wines (www.donelanwines.com), producers of California wines, also offers a nice crispDonelan Nancie Chardonnay for white wine lovers.
Other wines include:
2010 Walker Vine Hill Syrah -- Comprised of 100 percent Syrah fermented with 45 percent whole cluster and aged 18 months in French barriques (25 percent new), this is an intense and aromatically dynamic wine with hints of cassis, anise, blueberry, and herb-encrusted roast game. The mouth feel is a textural representation of silk, but with focus and tension on the finish. Blueberry and licorice notes will explode from the glass: a fruit lover's dream without feeling overdone or exhausting. 350 cases produced.
2010 Kobler Family Vineyard Syrah -- With less Viognier than Donelan's 2009 and 2008 vintages, the 2010 is 97 percent Syrah fermented with 40 percent whole cluster (a significant reduction from previous vintages to draw out the fruit of such a cool year). Aged an uncharacteristic 24 months in French oak (0 new oak), the aromas in this vintage are riddled with pure blackberry with a touch of cassis, along with violets, and black pepper. Supremely elegant and only 12.8 percent alcohol, the wine has a supple texture and deceptive length. Based on its structure, the 2010 will prove to be a very age-worthy version of Kobler Family Vineyard wine. 200 cases produced.
2010 Obsidian Vineyard Syrah -- The confluence of rocks, breezes, vine age, and the rare Syrah plantings sites in California, truly results in a unique expression of the Obsidian wine. Like the 2009, the 2010 took time to reveal its aromas, and only recently hints of tobacco, violet, licorice, cherries, and chocolate emerged. Consistent with previous examples of Obsidian — confirming the power of the terroir — the palate is supple and incredibly structured. Fleshier than the 2009, the 2010 still maintains strong scaffolding awaiting more development to fill out the wine. The finish is very long and invites a meal with strong flavors and rich textures for pairing. 385 cases produced.
2010 Cuvee Keltie Syrah -- Combining the best vineyard parcels with the best barrels of those vineyards, The Cuvee Keltie is a remarkable result of discerning selection. The 2010 represents a barrel selection of specific subsections of Obsidian, Richards, Kobler, Windsor Oaks, and Walker Vine Hill. Fermented 100 percent whole cluster and aged for 24 months in used French oak, the 2010 is a big wine mixing rich, sexy textures with structure and freshness. Loaded with aromas that evoke blackberry and plum sauce, along with smoked herbs such as lavender and fennel, it also reveals hints of roast game and black pepper. The best thing about this wine is its ability to be simultaneously weighty, textured, and rich, while retaining suppleness, structure, length, and hints of minerality. This wine is beautiful, masculine, and should age very well. Price: 200 cases produced.
For more information on Donelan Wines, call (203) 658-1248 or visit www.donelanwines.com.