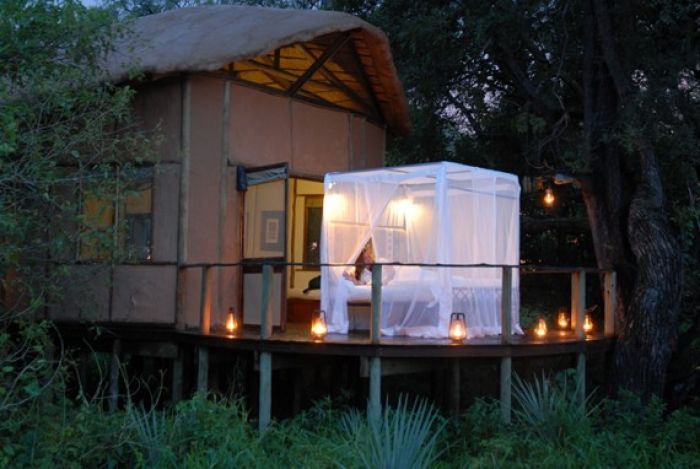 courtesy of A&K
From the calls of the wild to the explosions of fireworks, this Valentine's Day is as exciting as a first kiss with Abercrombie and Kent. The Romantic Escapes Concierge of the leading luxury travel company has hand-selected some thrilling experiences that are sure to take your breath away this loving season.
Sanctuary Baines' Camp is unrequited luxury under the gently swaying boughs of shady trees in Botswana. The Okavango Delta location is stunning—the five signature suites set on elevated platforms overlooking the Boro River within the trees themselves. The remote location, luxury services, and romantic possabilities abound in this stunning romantic getaway.
For a more energetically teeming urban escape, the Maharana's private barge dinner in India is just the thing. With rose petals scattered at the feet of you and your other half, the multi-course dinner, colorful barge, and private dock are a perfect way to spend a romantic evening in the glow of the city under the blossoming fireworks above.
To make your A&K reservations, visit www.abercrombieandkent.com or call 1-800-554-7016. Whether young lovers or seasoned soulmates, the offers of Abercrombie and Kent are sure to make for memorable experiences to share for a lifetime.
Originally posted on Examiner