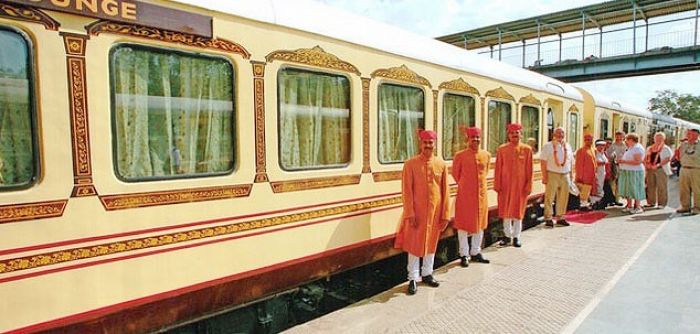 Palace on wheels is an Indian luxury train, promoted by Rajasthan tourism. Place on wheels takes you to full tour of Rajasthan, the colorful land. Palace on wheels gives you warm hospitality and royal treatment on all your way of tour. It is brief way to show the glimpse of Rajasthan and its ethnic culture. Luxury and provided in train won't make you feel that you are on running train, rather it will feel like five star deluxe hotel. Main concept of Rajasthan tourism before starting Palace on Wheels was to take you on a royal journey on a train and show the major places of Rajasthan which are full of forts and palaces. It offers package tour of 7 night/ 8 days. Destinations covered by Palace on wheels, a royal journey are:-
New Delhi- Jaipur- Sawai Madhopur- Chittaurgarh- Udaipur- Jaiselmer- Jodhpur- Bharatpur- Agra- Delhi
            Palace of Wheels luxury train tour not only takes you to witness Rajasthan's forts and palace but also take you to wildlife tour and everlasting memory of world, counted to be famous wonder; Taj Mahal. Palace on wheels takes you to delightful journey of Agra also for witnessing Taj Mahal and Agra Fort. This luxury train is full of many luxurious amenities. Well royal like furnished rooms and even suites are offered by train for your accommodation.
Facility on luxury train Palace on wheels are;-
Luxury accommodation
Drinking water
Spa
Satellite television
Bar
Restaurant
Doctor on call
Mailbox
Personal attendant
Laundry service
           While on your tour, your luxury train gives chance to have dinner with folk song and dance in five star hotels. Dinner with folks is really enjoyable and never forgettable one. Palace on wheels puts an attention to this enthusiasm too for you to have enjoyable time and unforgettable tour to Rajasthan. Women wearing Ghagra and men wearing dhoti and Kurta with colorful turban will fascinate you while you are on your dinner in a luxurious five star hotel.