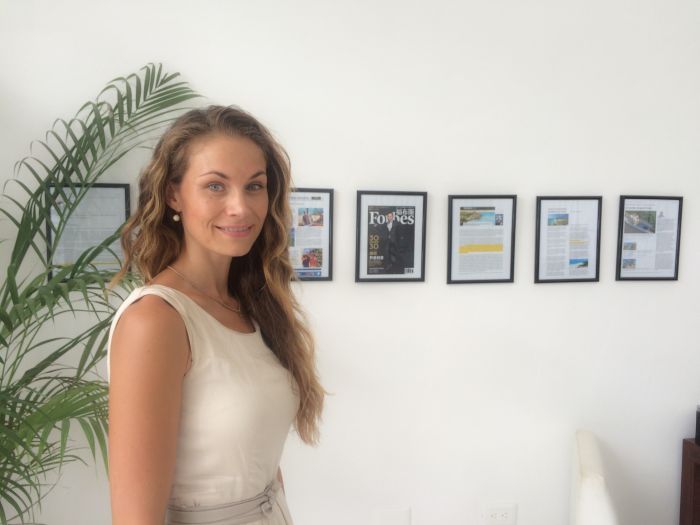 Photo Credit: Ruta Uleviciute
Investing in experiences rather than objects has been the trend for some years now, blossoming after global economic crisis of 2008. Ruta Uleviciute, who had a successful career in London managing high-end jewelry sales for top jewelry houses, made a decision to change her life and to offer her clients a different luxury investment: picturesque villas next to one of the most beautiful tropical beaches of the world in Tulum, Mexico.
"The attitude amongst people who see jewelry as an investment is changing. If you buy a million dollar jewel, you will wear it once or twice and then keep it in the safe probably until the auction day. If you invest in a vacation house in a beautiful location, it can be your personal paradise. The joy and happiness you get from creating your memories can be priceless, and the property will also grow in value," says Ms. Uleviciute.
This general feeling in the market, as well as their own search for paradise, prompted her and her partner to shift their careers. The couple researched Tulum for a few years before making the move and starting to learn how the real estate business works in a fast-developing tropical paradise. Her partner, Claudio Catanzaro, purchased a small restaurant on the beach to understand the real estate business firsthand.
Tulum, which is a former fisherman's village, has been attracting celebrities and the jetsetting crowd in search of complete relaxation. The idyllic location has all of the ingredients for paradise: sugary sand beaches, the turquoise Caribbean Sea and a come-as-you-are yoga mentality. However, it is an area that still preserves its natural beauty. There is a strong local focus on solar energy, and the region has imposed strict ecological construction regulations.
Uleviciute and three partners founded the Riviera Maya Property Consultants company in Tulum, providing others with the opportunity to invest in an experience that can last a lifetime. A vacation villa, condo building or a hotel can bring serious return on investment, especially since Tulum's real estate is among the fastest-growing in Latin America. Since 2008, Tulum's employment rate has more than doubled, and its has population tripled since 2000. The state is now building a rail network, and development is visible in hotels, restaurants, tourism, and luxury.
"I moved to London from Lithuania about 17 years ago in search of personal and professional growth. I think I have achieved a lot professionally. My clients were some of the most famous and wealthy people around the world, and I was honored by invitations to a few royal events. But there came a moment when I wanted a new challenge in my life, to learn new things and to follow my heart to the place that I fell in love from the very first sight. I wanted to offer a piece of this paradise to all my former clients," says Uleviciute. Her dramatic career and life change has been paying off, since there are a good number of people in search of a place to rejuvenate, relax and spend time with their families while still making a great investment.
Since founding Riviera Maya Property Consultants in April of 2014, the company has sold luxury penthouses and land lots. It has also undertaken architectural and construction projects ranging from upscale houses that combine modern architecture with local Mayan style. to exploring commercial construction options such as hotels and condos.
"In my role as a Sales Director for Riviera Maya Property Consultants, I use my London high-end sales experience to set a new level of customer service and give a very personal treatment to each and every customer," explains Uleviciute. "I don't see our company as a real estate agency. We are more than that. People come here with their dreams, and we do all we can to turn those dreams into reality. In addition, it can be daunting to purchase real estate in a new country. We take care of the entire buying, design and construction process for our clients."
Kimberly Richmond, a client from New York who purchased a luxury condo with Ms. Uleviciute's help, raves, "Ruta's stellar service continued during my visit with five-star, hands on, personalized attention...Working with them was the best decision I could have made. Not only was the process easy and fun, but I know I've made a dear friend."