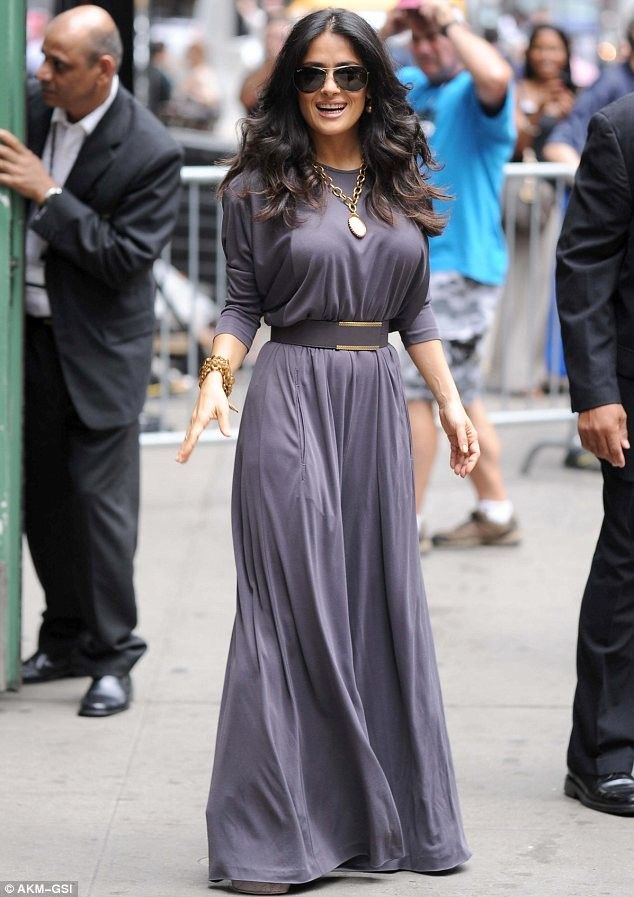 AKM-GSI
In that gray jumpsuit, no one can say Grown Ups 2 star Salma Hayek is anything but *ahem* "grown up." Though nominally meant to showcase the actresses ultra-slim waist, the flowing gown drew eyes to certain, other features of the lovely actress. The stylish dress is apparently a hard one to wear – and it looks like it, with that belt! – but Hayek pulled it off with class.

She has been busy promoting her new film Grown Ups 2 and it seems that every appearance is yet another opportunity for Salma Hayek to show off her chic style.
The 46-year-old actress dazzled in not one, but two different outfits as she arrived and left the Good Morning America show.
The actress showed off her tiny waist in a grey jumpsuit as she exited the studios, a look that can be tricky to pull off.
The garment, which is a tricky look to pull off, managed to complement her curves and showed off her enviable shape.
Salma added a waistbelt and a chunky gold pendant to finish off the look. (Read More)