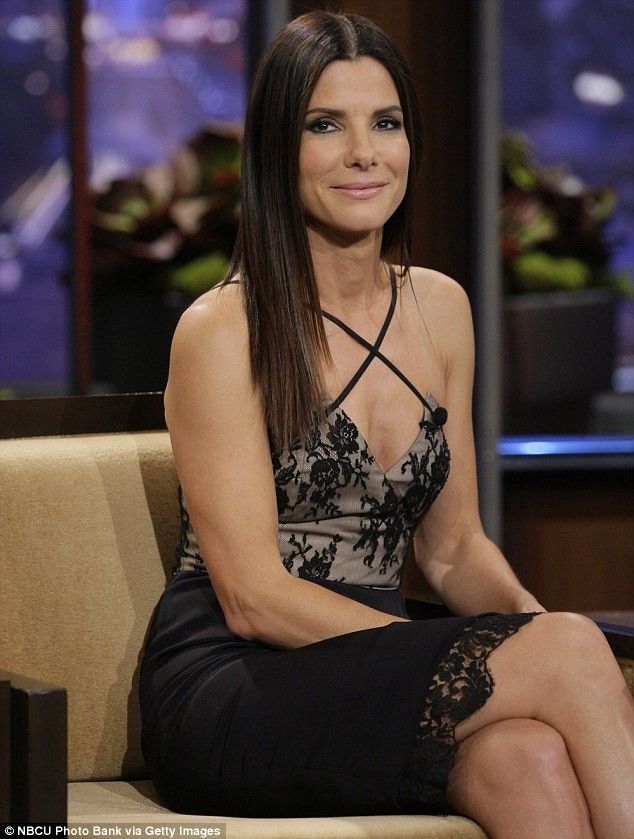 Image courtesy Getty Images
Sandra Bullock is 48 years old, and infinitely more sexy than some of the girls half her age. How does she manage this medical miracle? It's as simple as a fashion sense that flatters her form, rather than the trashy outfits favored by her younger competition. Looking lovely as always on Jay Leno's program, Bullock opted for a revealing and curve friendly black-and-white criss-cross dress that was simultaneously stylish and flattering.
She is currently promoting her new movie The Heat.
And Sandra Bullock has certainly been raising temperatures with her wardrobe choices whilst doing so.
And it was no different on Tuesday night when she appeared on The Tonight Show With Jay Leno.
The 48-year-old stunned in a sexy nude and black lace dress which featured criss-cross detailing across her chest.
The boudoir-inspired attire clung to Sandra's figure in all the right places and the top part of the ensemble gave the illusion of a bustier.
Sandra let her dress do all of the talking by pairing it with some simple black stilettos and wearing zero accessories. (Read More)