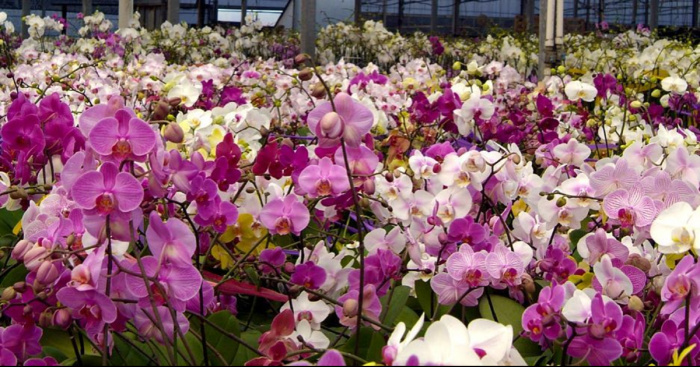 Photos Credit: Santa Barbara International Orchid Show
Each dazzling orchid throughout the world represents its own individual show of mesmerizing color and wonder. Recognizing the evocative nature of orchids, organizers of the 73rd Annual Santa Barbara International Orchid Show, one of the grandest celebrations of the plant in the country, themed the 2018 event "Orchids—The World's Greatest Show."
Next year's assembly of all things orchid at Earl Warren Showgrounds in beautiful Santa Barbara, California will take place March 9 -11 from 9 a.m. to 5 p.m., and promises to build on the history and allure of the long-running event. Save the date!
The SB Intl. Orchid Show has earned its reputation as one of the grandest displays of the genus that boasts over 25,000 species. Experts pursuing their lifelong passion for the unique plant share what they know and continue to learn about the newest trends in hybrids, the excitement of discovering exotic plants in nature, and the scientific marvels of how orchids pollinate and thrive in environments around the globe. With so many species, there's always something fascinating to take away from a visit to the special, three-day gathering.
As a respected event for orchid excellence, SB Intl. Orchid Show dispenses prestigious awards for passionate hobbyists who have reached the pinnacle of performance in orchid growth and care. In the exhibit hall, world-renowned growers display the best-of-the-best in the arena of premier orchids to share their impressive cultivars with everyone from casual attendees to the wide family of orchid lovers who convene in Santa Barbara annually to witness greatness.
During the three-day event, more than 50 orchid exhibitors and vendors from around the world, both commercial and hobbyist, join to present and discover the latest in orchid trends. In addition to having the opportunity to browse a myriad of rare and remarkable blooms, attendees can select and purchase premium plants from the many vendors assembled to showcase unmatched variety and quality. Interactive presentations of orchid arrangements, juried art, photography for sale, and culture will engage and educate spectators.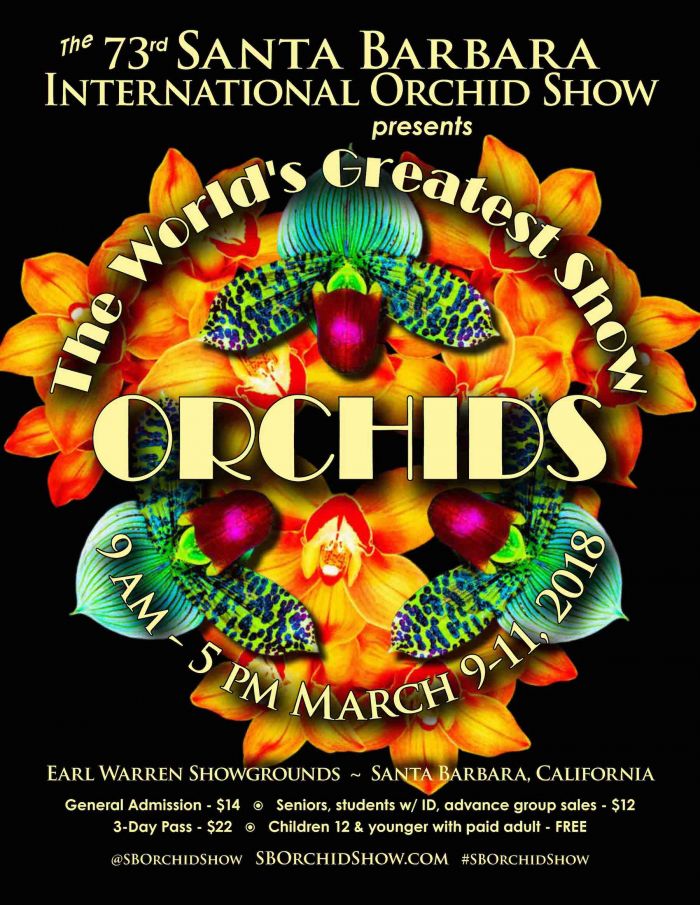 Santa Barbara has long been an epicenter of domestic orchid collection. During the 1930s and 1940s, residents with sophisticated tastes imported the exotic plants from England. Indeed, during the war years, many collections were sent to the U.S. from the U.K. for preservation, infusing many with a fascination and admiration of orchids, particularly among the wealthy who owned large estates and maintained private conservatories. It didn't take long before enthusiasm spread to the West Coast, finding an especially well-suited climate to live in Santa Barbara County, all of which resulted in the launching of the first Santa Barbara Orchid Show in 1945, hosted at the Montecito Grange Hall by the Santa Barbara Horticultural Society. The event grew and moved into venues that gradually increased in size and capacity to meet brimming interest before filling the Earl Warren Showgrounds' new rotunda building in the early 1960s. Commercial and hobbyist growers eagerly anticipated in the annual event where they exhibited their premier specimens.
It's fitting that such a world-class Orchid Show is set in Santa Barbara. Over the years the region has boasted the largest pocket of commercial orchid growing in the country. Today, many local greenhouses open their doors and host sales during the weekend event as well as throughout the year, to demonstrate how accessible the once rare flowers have become. In the early days of orchid propagation, stud plants sold for tens of thousands of dollars, and orchids were a luxury for the wealthy. Today, thanks to the advent of laboratory orchid cloning and technological advances in cultivation, while there are still one-of-a-kind collector's plants offered at lofty prices, scores of orchid varieties have become easily available and affordable.
Santa Barbara International Orchid Show is open Friday, March 9 through Sunday, March 11, 2018, from 9 a.m. to 5 p.m. daily at Earl Warren Showgrounds, located in Santa Barbara at Highway 101 and Las Positas Road. General admission is $14; seniors, students with ID and advance group sales (minimum 25) are $12; and children 12 and under are free with an adult. Tickets are available in advance online.