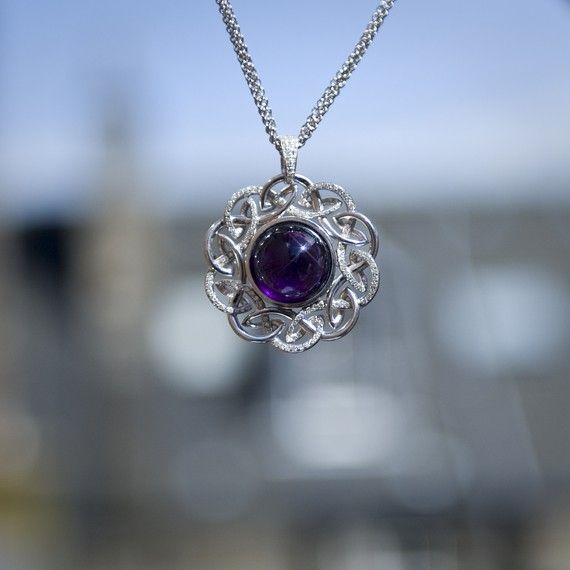 Hamilton & Inches
To celebrate the release of Disney Pixar's new film 'Brave', renowned Edinburgh jeweller Hamilton & Inches created a unique necklace. It was recently worn by Scottish Gaelic singer Julie Fowlis on the red carpet at the European Premiere, Edinburgh. Julie performs two original songs for Brave.
The bespoke necklace was designed by Vicki Smith, a graduate of Glasgow School of Art and is worth around GBP 15,000. The jewellery, which can be worn as a pendant or a brooch, features interwoven strands of silver and brilliant cut diamonds in a Celtic knot-inspired design and has a cabochon amethyst at the centre in a rich, royal purple. It weaves together the Celtic, medieval and royal elements of the film and was inspired by Scottish history.
Vicki said, "It's been a lovely project to work on. I tried to bring together traditional Scottish heritage with contemporary design. I love working on bespoke pieces and to be able to see it worn on such a fabulous occasion, a film premiere, especially one on the scale of 'Brave', is a once-in-a-lifetime opportunity." Julie also had input to the design and chose to wear the jewellery as a pendant on a string of pearls for the Edinburgh European Premiere.
She said," 'Brave' is not only a brilliant film, but is also a fantastic celebration of traditional Scottish culture and the pendant encapsulates that perfectly. It's beautiful, fit for a princess, and it is a privilege to play a part in showcasing Scotland's creativity and wealth of design talent to the world."
Mike Cantlay, Chairman of VisitScotland, said: "When making "Brave", the team at Disney•Pixar went to great lengths to give the film an authentic, Celtic feel, not least in the intricate designs of the characters' clothing and jewellery that can be seen in virtually every frame. This brooch by Hamilton & Inches marries traditional Scottish craftsmanship and design with traditional Gaelic music, in celebration of a film with Scotland at its heart. In the Year of Creative Scotland, this is a fantastic opportunity to showcase the artisanship of the Scottish people."
Stephen Paterson, Managing Director, Hamilton & Inches, said, "We are delighted to design a unique piece of jewellery inspired by Disney Pixar's Brave which has taken so much inspiration from Scotland and the highlands. Celebrating the year of Creative Scotland this seemed like an ideal opportunity to showcase the skills we have here at Hamilton &Inches. "
There are now plans to auction the piece for charity.
Two new songs performed by Julie are among the film's musical highlights. "Touch the Sky," with music by Pixar's Alex Mandel and lyrics by Mandel and director Mark Andrews, accompanies Merida's liberating and exhilarating ride through the forest when she escapes the confines of castle life. The song "Into the Open Air," with music and lyrics by Mandel, is heard later in the film during a special moment between mother and daughter. "If ever we imagined a singing voice for Merida—the beauty, the clarity, the directness and honesty—Julie embodies that, " said producer Katherine Sarafian.
Fowlis added, "It was great to be invited to record and perform on the soundtrack to 'Brave' and particularly to sing the songs which represent the feisty, female lead Merida.I so enjoyed the challenge of adding a dimension of acting to my singing in order to bring Merida's character and inner feelings to life through song."
For further information on "Brave" visit www.visitscotland.com/Brave
Gilly Pickup
Hamilton & Inches workshop copyright Gilly Pickup
Gilly Pickup
Hamilton & Inches workshop copyright Gilly Pickup