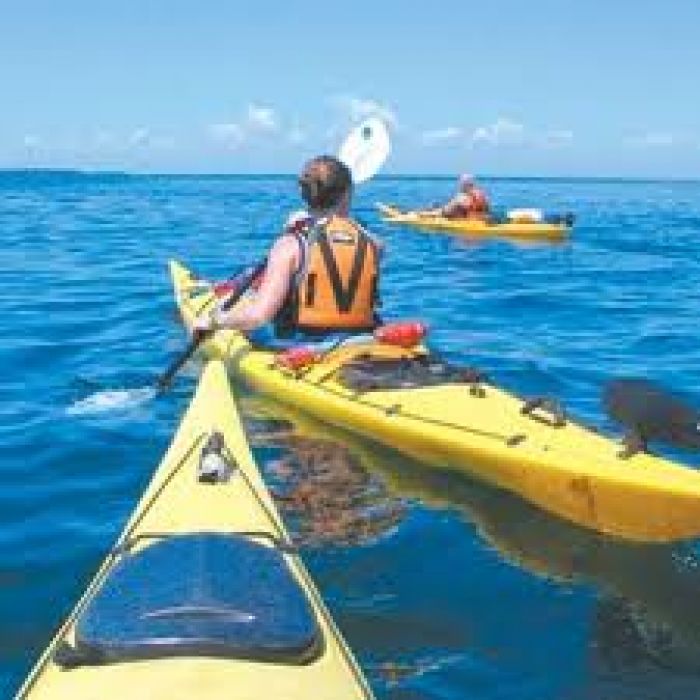 Sea kayaking is a unique experience.  The crystal clear waters and abundant sea life ensures your trip will be the experience of a lifetime.  There are many companies throughout the Caribbean that will take you on guided kayak adventures and many operations require no prior experience with kayaking and will teach you everything you need to know for sea kayaking in the Caribbean.  Alternatively you can rent your own kayaks and take them out on your own.  No matter which method you choose, there are several areas in the Caribbean that are perfect for sea kayaking adventures.
Tobago
The many coral reefs just offshore and the island scenery make Tobago a great place for sea kayaking.  There are many bays around the island to choose from, each with its own attraction.  Buccoo Bay is protected by the Buccoo Reef providing gentle swells that are great for kayaking.  Bon Accord Lagoon provides a lush contrast to the scenic white beaches around most of the island whilst Man-O-War bay is Tobago's best deep water bay.  With mountainous greenery on one side and sparkling-blue ocean on the other, this is a great area for sea kayaking.  If you would like to see the mix of nature and civilization, Speyside Bay is perfect for seeing the forest and the multi coloured houses existing in harmony, while local fishing boats and tour boats mingle in the waters of the bay.
St. Croix
St. Croix offers many spectacular places for sea kayaking.  It is renowned for having some of the clearest waters in the Caribbean, great for watching the sea life as you pass by in your kayak.  One of the best places to put begin your kayaking adventure is the Salt River Bay.  Fresh and salt waters mix here to create a unique natural environment that is home to a variety of flora and fauna.  You can also take a bioluminescent night time kayaking trip; quite a unique kayaking trip, you will experience the sea life that comes out at night in this Caribbean bay.
Aruba
The beautiful mangrove forests and coastal caves offer a wonderful environment in which to kayak along the coast of Aruba.  You can explore past hiding places of pirates, magnificent coral reefs, and some of the most vibrant sea life you will see anywhere.  The Spanish Lagoon is the perfect spot to drift along with the tropical fish through the clear Caribbean waters and you can also snorkel during your kayaking adventure, combining two of the most popular water sports in the Caribbean.
Bahamas
The Exuma Cays are one of the most popular places for sea kayaking due to their low commercialism and unspoiled environment.  There is a variety of uninhabited cays, isolated beaches, and hidden caves to explore on your own or with a guide.  Lush mangroves and bonefish flats are just some of the wonderful natural habitats you will see on your kayaking adventure.  The shallow waters around the islands make kayaking the perfect water sport for this area. There are also extended trips available, where you will kayak during the day and sleep on the white sand beaches at night. The area also has many lagoons and ponds that allow for safe kayaking in almost any weather. Abaco Club at Winding Bay even offers glass-bottom kayaks so you can view what is underneath you and around you.
The Brigantine Islands are also a wonderful remote spot to go for your sea kayaking adventure.  The clear, warm waters allow you to see the coral reefs and tropical fish that live around the islands.  The environment that has remained intact will be a treat for any kayaker that wants the experience of a lifetime.
If you are a keen kayaker, it won't be long before you apply for St Kitts citizenship, at least not after you have experienced the spots described above.