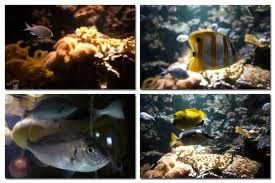 When traveling through Paris and exploring all the wonderful sights there is to see, you might want to consider traveling about 30 minutes outside of Paris to Marne la Vallée.  There you can spend a lazy afternoon with your family and friends exploring all the wonderful marine life living at the SEA LIFE Val d'Europe aquarium.  There are over 50 tanks and over 350 species of marine life to view and learn about.
At the Discovery Pool you will be able to actually touch fascinating sealife such as star fish and mussels.  Don't forget to visit the turtle tank where you will meet Natasha and Briony the green turtles.  Along your journey you will see such species as:  See Dragon, Seahorses, 11 different species of sharks, and much more. There's nothing more exciting for young and old alike, than experiencing nature up close and the chance to have a "hands on" adventure.
You'll be thrilled when crossing over the 360 degree tunnel where you'll be able to see feedings and the incredible rays in all their graceful glory. There are so many things to see it will take you the better part of the day to discover all the spectacular tanks. For large groups this is a perfect place to spend the day together discovering all the wonders of the sea. 
You might also be interest in:
poisson-aquarium.com
katy.over-blog.fr