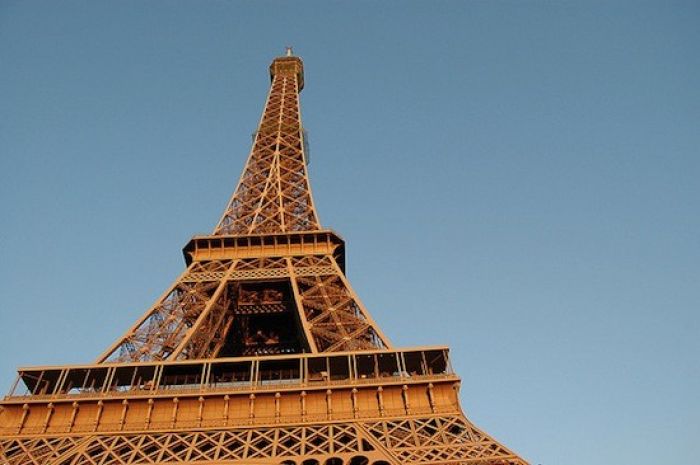 The Purple Passport
When I think of French mega chef Alain Senderens, it's hard not to get an image in my head of Mr. Six–the tuxedoed, bespectacled grandpa from those Six Flag commercials–busting a move. The last thing we expect our elders to do let is their limbs fly and get jiggy with it. But that's precisely what Senderens has done, in a gastronomic sense of course.
Once upon a time, he ran a triple Michelin-starred restaurant called Lucas Carton and was drifting into retirement as the much-loved grandfather of Nouvelle Cuisine. But then, much to the shock of the haute cuisine community, Senderens decided to shake things up a bit (make that a lot) by busting a completely unexpected culinary move: he handed back his three stars (which he'd held for close to three decades), turned his restaurant's elegant 18th century premises into a mod white '70s style lounge (think lots of gauzy curtains and curvy banquettes), and toned the menu down from haute cuisine to "brasserie de luxe." How's that for gettin' jiggy?
The result is his namesake Senderens restaurant. The food is just as delish and the menu as inventive as it was back in the Lucas Carton days, but much more accessible (instead of mortgaging your house to afford it, you'll just need to sell your car). The chef boogies through multiple continents for dishes like French veal and langoustine tartare with Chinese noodles and Italian parmesan, and desserts like pineapple roasted a la Piña Colada. Light eaters (and vegetarians) beware: the meat of the menu resides in choices like foie gras, pigeon, and suckling pig.
While the food has remained on the heavy side, the heavy hitters that now roll in are more young-and-fun than the Lucas Carton set: a power-hungry mix of expense accounters from the finance, fashion, and publishing in-crowds, as well as a smattering of curious gastronomes. If possible, try to score one of the banquettes on the side (where the power scene holds court) rather than the exposed seats in the center for the best people-watching (but note, these tables are often off limits to tourists- and are decidedly reserved for the restaurant's regulars). Despite being billed as "relaxed," the dress code is conservatively smart casual. I'd wear a sharp little day dress and designer flats.
If you want to lighten up a little, head to the upstairs bar and tapas joint Le Passage de Senderens, which is more casual and cheaper. The only thing I wish they didn't lighten up on in the main dining room is the service–they can be really pushy about turning tables, which runs totally counter to savoring the langoustine.
But despite a few wrong moves, Chef Senderens has choreographed a truly worthwhile transformation. Drop in for a sophisticated lunch and you won't be disappointed. Just don't make your plans for the month of August, when the restaurant and bar are closed. Dancing grandpas need a break now and then, y'all.