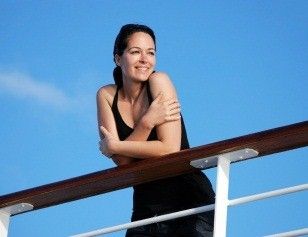 Romance on the high seas is a fairytale that few people get the chance to experience. Take some of the guesswork out of meeting someone new by exploring friendships and romantic relationships on a singles cruise. Singles cruises are specifically created to cater to individuals looking for fun, friendship or an amorous liaison. Explore your options before deciding which type of singles cruise fits your lifestyle and budget.
What exactly is a Singles Cruise?
Don't confuse a "singles" cruise with a "solo" cruise. Solo cruises are catered toward individuals looking to escape everyday stresses and enjoy a vacation on their own without any expectations of forming a romantic attachment. Singles cruises, on the other hand, are designed for people looking to meet other like-minded singles who are also searching for their soul mates, or just someone to share a laugh with.
Before You Book
Before pulling out your credit card, learn the specifics of a singles cruise. For instance, many cruises offer the option of reserving your own state room or sharing a cabin with another single of the same sex. Choose the best option for you based on your comfort level and your financial situation, as single state rooms tend to be more expensive. Ask about the ratio of men to women on the cruise. If you're looking for romance, choose a cruise with a higher ratio of the opposite sex. Also, inquire about the average age of the cruisers on a particular ship. If age is a contributing factor, ask your travel agent or research the cruise to determine the average age, which is generally between 30 to 60 years old. If you're seeking a younger crowd, book accordingly.
Activities
Singles cruises generally offer a variety of activities designed to help people break out of their shells, meet new people and enjoy the various destinations. Here are a few activities you might encounter on a singles cruise:
Group Activities: From potlucks to cocktail mixers and poker tournaments to wine-tasting events, singles cruises offer a variety of distractions that allow people to meet others while enjoying a fun activity. Choose activities on the cruise based on your personal preferences and tastes, or head outside of your comfort zone and experience an adventure. The idea here is to share a group experience with your fellow cruisers. Remember the idea is to meet people and mingle, which is the objective behind these planned activities.
Recreation: Indoor and outdoor recreational activities are prearranged by the cruise line and intended to allow singles to meet and greet while exercising their minds and bodies. Volleyball, football, pool parties, dance lessons, tennis, board games, rollerblading, camping and dart tournaments are just a few of the recreational options available on several cruise lines. Join the activities early to meet new friends or that special someone with whom to enjoy the remainder of your trip.
Land Excursions: Stopping at ports and exploring exotic locations with a group is a safe, fun way to mingle with your fellow singles while taking in the local culture. Once again, take this time to acquaint yourself with the other singles on the cruise while learning about the destinations, and sign up early before all the best groups are filled.
Singles Cruise Options
Contact your travel agent or the cruise line directly to inquire about the singles cruise option that best fits your passions, pursuits and budget. For those of you who don't know where to start, here are a few options to consider when deciding which singles cruise is best for you:
· Singles Travel Company (www.singlestravelcompany.com) offers a variety of options, but the trips are mainly designed around the traveler's age. The liner offers cruises for people in their mid-30s, 40s, 50s and 60s. The company provides the option to bunk alone or with other singles to save money and travels to several locations, including Paris, Egypt, Scandinavia, Amsterdam and Costa Rica.
· Being the biggest player in the cruise line game means Royal Caribbean (www.royalcaribbean.com) offers a variety of singles cruise packages. Visit the Royal Caribbean website or speak to a travel agent to plan the trip that is right for you based on your desired dates, destination, number of nights, price and ship preference.
· Singles Travel International (www.singlestravelintl.com) is a website devoted to finding the ideal singles getaway, including cruises. The site provides "Featured Singles Cruises," which are pre-arranged cruise packages that the site considers to be great experiences or bargains. For the do-it-yourselfers, Singles Travel International offers the "Trip Search" option to find the ideal cruise based on a number of factors, including the traveler's age, destination or desired price point and on-board activities.
Remember to book early and choose the package that fits your needs, budget and intended outcome. None of the above-mentioned cruise lines and services guarantees you'll find Mr. or Ms. Right, but they do allow you to customize your experience enough to ensure that you'll at the very least have an amazing time.