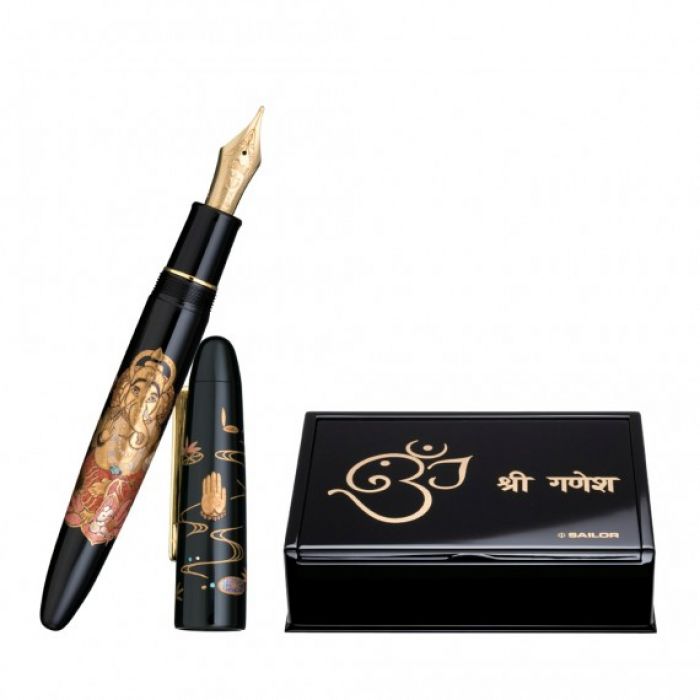 Diwali or Deepawali is the biggest Indian festival. The streets of India are all decked up with lights, shops are full and a holiday cheer is all around. It was a bit surprising for us then to not see a single product decked in gold (given that Indians love the yellow metal and are amongst the biggest hoarders of it globally). Diwali is also considered the most auspicious time to purchase gold.
Luckily we did manage to find this 'Ganesh' pen which has been named after the elephant god that promises success and good beginnings in all new ventures. The pen has been created specially for the Indian audiences with a 21 karat gold nib and is strictly limited to only 36 pieces world wide.
The Ganesh on the pen has been drawn by hand by famous Japanese maki-e artist Kosen Oshita. The pen is available only at William Penn stores. Each piece has been crafted by Sailor delicately with precious metal powders of gold, abalone and silver.  Sailor is one of Japan's biggest pen maker - Established in the year 1911. Its factory is located in Hiroshima, Japan. Sailor has the distinction of being the world's only pen maker who produces a 21 karat gold nib.
Ganesh's head symbolizes the Atman or the soul, which is the ultimate supreme reality of human existence, and his human body signifies Maya. The elephant head denotes wisdom. In his upper right hand Ganesh holds a goad, which helps him propel mankind forward on the eternal path and remove obstacles from the way. The broken tusk is a symbol of sacrifice, which he broke for writing the Mahabharata. The rosary around his neck suggests the pursuit of knowledge should be continuous. The laddoo in his lower left hand indicates that one must discover the sweetness of the Atman. His fan-like ears convey that he is all ears to our petition. At his feet is the mouse, the lowest of creatures, which he is humble enough to use, as a vehicle.
Its not the first time that Ganesha has been done up in gold. We saw him recently decked out in
precious metals on the occasion of Ganesh Chaturthi
. Indians have had a long history of donating rare and exclusive treasures to temples as was evidenced by the recent find of a
$22 Billion treasure
.