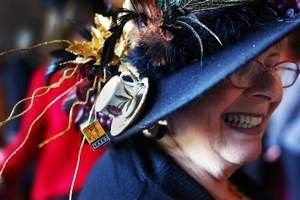 Democrat and Chronicle
The Rochester Country Club recently held its annual Mad Hatter Tea Part and Holiday Fashion Show, prompting women to show up in goofy hats, most of which were of course themed after Alice in Wonderland.
Thirty minutes before its scheduled 2 p.m. start on Sunday, the sixth annual Mad Hatter Tea Party and Holiday Fashion Show saw dozens of women stepping through the doors of the Rochester Country Club, ready to get the party rolling.
The event, hosted by the Rochester ChildFirst Network, sold out its 250 spots weeks in advance, said Wanda Snow, events coordinator at RCN. She said the show sold out last year as well.
"We wanted something that would be attractive to women," said Board Member Paula Howk . The event is for women of all ages, she said, and commonly mothers and daughters, and grandmothers and granddaughters attend together. Read More