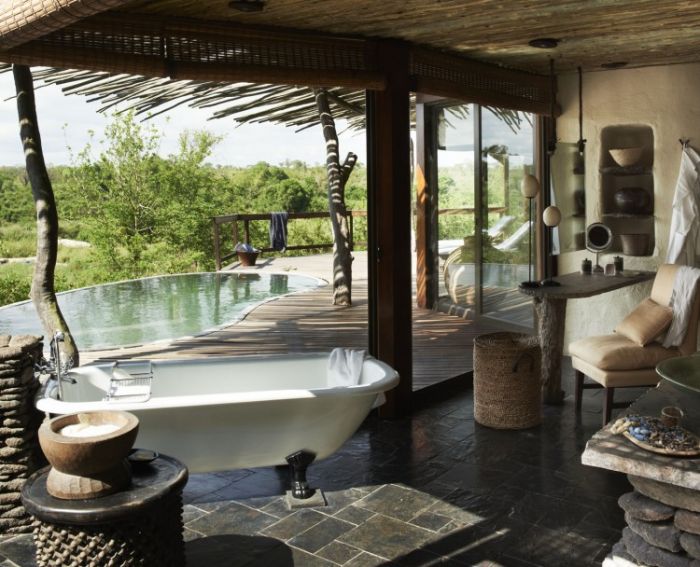 Singita
Singita approaches wine in the same way it shapes and manages every aspect of its business, delivering a true depth of experience that aims to exceed the expectations of world travelers. Attention to every detail of the guest experience, including the pairing of food and wine, is just another way that Singita has differentiated itself at the top end of the safari market. The logistics behind what it takes to offer a serious, high end wine list in remote locales makes for a fascinating behind-the-scenes story.
Singita Premier Wine, the arm of the business dedicated to the sourcing and supplying of wines for all the Singita properties in Southern and East Africa, was established over a decade ago thanks to the vision and support of Singita CEO Luke Bailes. It is headed up by François Rautenbach, who manages the selection, purchase and temperature-controlled maturation and distribution of each wine on every wine list and also oversees the service of the wines from hosting informal wine tastings with guests to managing an in-house sommelier apprenticeship program.
Each property shares a wine list, but it is tweaked with additional wines or older vintages for each lodge on the property to complement the size and style of the accommodation, the cuisine and even the guest profile. On average, a Singita wine list has in excess of 180 wines, many of them at least five years old. Lists often feature multiple vintages of a particular wine. "In compiling our lists, we try to include not only unique wines but also lesser known producers to ensure a sense of adventure and newness," says Francois. Since all wines on the list are included in the rate, with the exception of champagne, maintaining exciting, relevant wine lists is no small task.
Francois initially created an extensive wine cellar and wine boutique at Ebony and Boulders lodges, Singita Sabi Sand, which continues to showcase the best of the best without being predictable. The wine culture established in the Sabi Sand remains the benchmark for Singita lodges throughout Africa.

Sommeliers are on hand at all the lodges, handpicked not only for their wine knowledge, personality and exposure to travel but also for their love of the bush and Africa. Over the years, many of Singita's sommeliers have been qualified winemakers mentored by Francois to guide guests through several vineyards, years and cultivars to enhance their knowledge and appreciation of South African wines.
Recognized as one of South Africa's most influential buyers of wine, Singita has an extensive cellar showcasing premium wines, including some of the country's most sought-after private reserves and limited-release wines. Wines are matured under carefully managed conditions, which is why the lodges can offer the majority of their red wines at five years or older.

Sourcing wines is an on-going job, and Francois and his team work directly with the producers either making personal visits to the farms or tasting samples sent to them. The Nederburg Auction is attended annually with specific emphasis on purchasing rare sweet wines not available elsewhere. At the Cape Winemakers Guild Auction, unique wines with proven rarity and provenance are purchased, often with specific guests in mind.

'Singita Premier Wine Direct is available to current, past and future Singita guests, but usually comes into play when specific wines have been enjoyed in camp. Key to the service is developing a 'personal guest wine profile' of wines enjoyed and purchased so that we can offer future wine selections geared to specific preference rather than as a generic 'web-site' shopping trolley,' explains Francois.

Expanding and tailor-making a world-class wine service across the collection of Singita lodges and camps is a constant challenge, but one which Francois relishes almost as much as mentoring his growing team of sommeliers.
www.singita.com
Singita
Francois Rautenbach