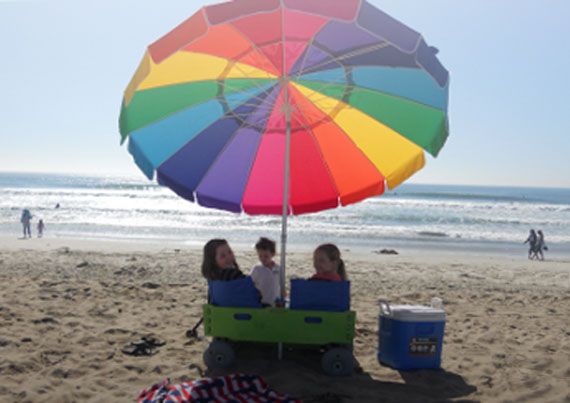 Summer ushers in its own unique tempo, food and fashion specific to this season rife with beach days, barbeques, vacations and loads of family time. Of course, with summer comes an assortment of seasonal solutions intended to enhance and elevate your experiences. Here are a few of this year's hot gotta-gets:

Shade Wagon (www.ShadeWagon.com) - $500-$650
A fantastic colorful visual for outdoor enthusiasts! Shade Wagon combines umbrella, seats, and storage into one product for easy transport to the beach, tailgate party, or outdoor sporting events. This wise wagon was created by two sisters who are also moms and love outdoor activities, but were tired of the hassle that goes with transporting gear to events. So, they created this innovative and practical solution that offers shade and storage along with a wide array of features. These include built-in handles for easy lifting, heavy duty metal undercarriages that can support up to 800 pounds, large pneumatic all-terrain tires, and center consoles with cup holders that opens to create a storage place for keys, wallet, cell phones, and more. The console can actually become a table or even converted into two seats for added convenience. The umbrella is wind vented, tiltable, and protective with SPF 30 fabric.


Soulra XL Sound System (www.EtonSoulra.com) - $300
Perfect for eco-conscious outdoor entertaining, the Soulra XL is the first solar-powered sound system for the iPod and iPhone. With a convenient carrying strap and rubberized protective end caps, the Soulra XL is extremely portable, moving easily from outdoors to anywhere else you want to go. It uses a massive, retractable 72-square inch enhanced monocrystal solar panel to juice up its internal charge-and-go battery, allowing the device to play music for up to eight full hours. . The eight speaker drivers easily fill an indoor or outdoor space with a robust 22W output. The Soulra XL's tough, ruggedized exterior also makes the device water and dust-resistant.

Margaritaville Bahamas Frozen Concoction Maker (www.QVC.com) - $182
QVC offers many great items for summer - not the least of which is their Margaritaville Bahamas Frozen Concoction Maker. This apropos summer appliance is a great way to whip up those restaurant-quality margaritas, daiquiris and other frozen beverages wherever and whenever the mood suits. With just a little ice and a few ingredients, your margi or piña colada will be ready with just a touch of the button. A gotta-get item for summer entertaining, the Margaritaville Bahamas Frozen Concoction Maker comes with a full 36-ounce plastic pitcher and a large ice reservoir to make a roomful of drinks in minutes. On-alcoholic family favorites can also be mixed up quickly like shakes and smoothies everyone can enjoy on a hot day.


CAMILEO SportCam BW10 (www.ToshibaDirect.com) - $150
Toshiba's CAMILEO BW10 weatherproof and waterproof HD digital camcorder not only allows quality filming on land, but it also works in under up to six and a half feet of water! This compact camcorder, available in a stylish yellow or silver finish, features a durable rubberized coating coupled with quality precision full HD 1080p video resolution, 10x digital zoom, and a two-inch anti-glare LCD screen. Video stabilization gives you the control you need when the situation turns bumpy. What's more, you won't need to lug around separate equipment for photos in adverse conditions because this device has a 5-megapixel still camera functionality that lets you stop time and capture life right in its tracks. There are easy-to-use functions, including a dedicated upload button to get those great videos up on YouTube in seconds.


Sauipe Swimwear (www.SauipeSwimwear.com) - Starting at $75
My favorite summer fashion find of this season is from Sauipe Swimwear. Having been featured in Sports Illustrated's annual swimsuit issues, this Brazilian swimwear line boasts an innovative design aesthetic executed with remarkably soft, yet supportive, materials and an array of style-savvy adornments. Inspired by early 20th Century accessories and sensibilities, the 2011 Sauipe collection features jewel tones, feathers, and other embellishments that offer a distinctive departure from the brand's traditionally sexy/sporty styles. The result is a wide range of sophisticated pieces for well-traveled, fashion-forward women. Sold separately, the two-piece bikinis can be mixed and matched to great effect - both figure flattering and fun. Differentiating itself from other swimwear, Sauipe is constructed from an incredibly supple material that feels and looks excellent on the skin while featuring unique hardware and accent pieces like gold mesh, lacquer embellishments, and circular rings. Other notable facets of the line include highly sought-after molded cup bandeau tops with detachable straps; unusual triangle top configurations, including macramé racer back and twist straps; and flattering bottoms that more coverage and folded waistbands.


Picnic Time Highlander Deluxe Picnic Basket (www.Overstock.com) - $113
Overstock.com's stunning Highlander Deluxe Picnic Basket has Old World charm and sophistication sure to make an outdoor meal anything but ordinary. The brown rattan and bamboo outdoor serving basket is lined with quilted, red tartan cotton and features all the amenities needed for the perfect picnic - perhaps at a midsummer night's concert, a quiet afternoon at the park, or a romantic evening on the beach. This beautiful basket is stocked with deluxe serveware for four, including 9-inch melamine plates with a navy ring design, hand-blown 8-ounce wine glasses, and stainless steel knives, forks and spoons. Also included are a stainless steel cheese knife with wooden handle, a hardwood cutting board, stainless steel waiter-style corkscrew, plastic food storage container, a set of stainless steel salt and pepper shakers, red insulated wine duffel and a red tartan picnic blanket. Simply stock with tantalizing food and wine and your delicious adventure is ready to go!


Lizzie Lou Shoes (www.LizzieLouShoes.com) - $110
Lizzie Lou Shoes are a premium line of wonderfully embellished women's flip flops that are not only beautiful, stylish and fun, but they are also extremely comfortable - even if you spend hours a day on your feet. Hand embroidered on leather with genuine crystal accents, Lizzie Lou Shoes offer the ultimate in summer fashion flair and flexibility since they look great with both day and night outfits. The Emily Morgan platform wedge design -- my choice -- features a truly stunning black and silver embroidered design on white fabric with a black extra soft EVA-cushioned insole. This particular shoe is embellished with black and clear crystals and highlighted with silver studs, giving the shoes an elegance that elevates any summer ensemble.


PurseN Travel Tote (www.PurseN.net) - $98
Whether you're off to the beach or a summer vacation, PurseN Travel Totes will not only make you look great, but they will also keep all of your belongings organized while you're on the go! This large luxury tote (19"L x 13.5"H x 6"W), available in Pucci-inspired prints like leopard skin, colored snakeskin and a hot pink summer swirl, is designed with 10 separate compartments, making organization easy and fun. The bag is so versatile that it can be used as a beach, diaper or travel bag. It features 7 large inside pockets, 1 large zipper compartment, and 2 outside pockets. The interior and exterior is ?wipeable? and has a zipper top closure with long handles for easy carrying. Inside, use a PurseN organizer insert accessory to further simplify your life. PurseN inserts are multi-functional, expandable, and easy to transfer from handbag to handbag. Multiple compartments can handle all of today's electronic gadgets while still leaving room for necessities like sprays, lotions, lip-gloss and compacts.


Back to Basics Ice Cream Maker (www.WorldMarket.com) - $40
Summer just isn't complete without regular doses of ice cream - America's favorite frozen confection. But, rather than loading everyone up in the car to hit the local ice cream shop, consider using Cost Plus World Market's Back to Basics Ice Cream Maker - a quick and easy way to make fresh and custom ice cream blends at home. The machine's large double insulated freezing canister eliminates the need for special ingredients and salt, taking the work and hassle out of creating your own frozen treats. After the initial freeze of the canister, this super summer appliance can make frozen ice cream, sorbet and yogurt in just about 30 minutes. It has a lid with a built-in top-fill funnel for safely adding ingredients, while the mixing paddle changes direction to prevent overheating as the ice cream thickens. Other features include a simple push-button on/off switch, a transparent lid for keeping an eye on the consistency, durable plastic housing that wipes clean, and an instruction manual filled with great-tasting recipes.


Pig Terracotta Grill (www.WorldMarket.com) - $25
Cooking in terracotta is an age-old tradition - still popular since cooking time reduced due to clay's heat retention properties. Cost Plus World Market not only makes terracotta an affordable way to cook outdoors, but also offers an adorable décor option sure to spur conversation. The company's compact, tabletop Pig Terracotta Grill perfect great for grilling up food for one or two on quiet, intimate evenings. The grill is equally suitable for a small party of four or five people for tapas-style dishes or even S'mores. Its small size also makes it easy to take with you on your next camping trip or excursion to the beach for an added a playful element. This grill can be used with standard charcoal briquettes and should be hand washed.


Grill Charms (www.GrillCharms.com) - $4-$50
When grilling out with friends and family, it can be difficult to keep track of what food items is what, how it's seasoned, how it should be cooked, and for whom. Grill Charms readily solve this problem - and with style to boot. Grill-masters simply stick a Grill Charm into the item to be cooked - before it hits the fire - to keep track of it all; to distinguish spices and flavors for those who like it hot or those who prefer mild, discern steak temperatures for those who might like it well done from those who like it rare, or avoid health or allergy issues. The charms stay in the food item before, during, and after grilling so, when dinner comes to the table, the chef or diners themselves simply look for the Grill Charm and serve it up appropriately. With four fantastic collections to choose from, Grill Charms also make a great gift for any occasion - gift one to the host of hostess at your next BBQ!

***Some or all of the item(s) detailed above were provided at no cost to accommodate this review, but all opinions expressed are entirely those of Merilee Kern and have not been influenced in any way.***