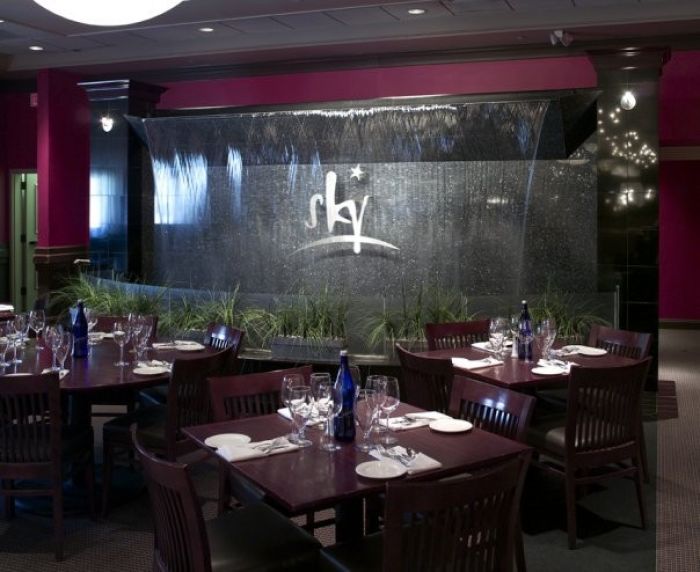 Sky Restaurant
A few years ago, great restaurants could only be found in the city. While sometimes fun trekking into Boston, those living in the suburbs often bemoan the traffic, high prices and additional parking costs. Today, great dining can now be found in nearly every suburb but one of the restaurants to really put suburban dining on the map is Sky Restaurant.
The Norwood, Mass. restaurant with lively bar and sleek dining room complete with waterfall has really changed the way locals dine. We visited the popular restaurant recently and were seated in the large comfortable bar area complete with dark wood walls, deep red booths and cozy fireplace.
Our server got us started with a Lights of Havana cocktail and gin martini with blue cheese stuffed olives that we paired up with a sampling of crispy Baja egg rolls. The delicious golden rolls were stuffed with spicy chicken, cheddar jack, corn, black beans, onions and poblano peppers. Don't miss one of their fire-grilled flatbreads – we prefer the addicting artisan pepperoni and spicy sausage topped with Asiago and mozzarella cheeses.
For dinner, the grilled Atlantic swordfish was expertly prepared with a tasty caper butter sauce lobster risotto and grilled asparagus. On Friday and Saturday evenings, Sky offers a prime rib special. The enormous slow roasted cut was cooked to a juicy medium rare perfection and is one of the best deals in town for just $32. The prime rib was served a la carte so be sure not to miss their famed Asiago spinach baked potato, which was as heavenly rich as it sounds and worth every indulgent calorie.
Other creative dishes here include pan seared hake in a garlic caper tomato broth, wild caught miso sake glazed salmon, prosciutto parmesan crusted shrimp and scallops, "fork and knife" eggplant Napoleon and a Maine lobster club with garlic butter chips. There are also multiple private dining rooms for bridal showers, corporate meetings, conferences and weddings.
SKY is located at 1369 Boston Providence Turnpike (Route 1 South) in Norwood, Mass. For more information visit www.sky-restaurant.com.
Sky Restaurant
Sky Restaurant
Sky Restaurant