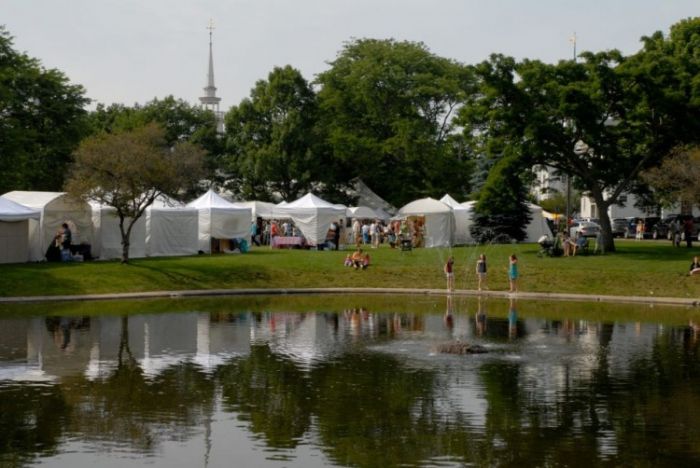 South Shore Arts Center
One of the biggest fundraisers of the South Shore is being held this weekend at South Shore Art Center in Cohasset, Mass. The 59th annual Arts Festival takes place Friday, June 13 through Sunday, June 15 on Cohasset Common.
The Arts Festival features three art exhibitions, over 90 juried craft and fine art exhibitor tents, artist demonstrations, local food booths, and live music throughout the weekend. Musical talent includes American Idol finalist Siobhan Magnus performing at 6 pm on Saturday.
More than 9,000 visitors are expected to enjoy the Arts Festival and guests are asked to park in satellite parking locations on Sohier Street, Cohasset. A free trolley shuttle will run between the Common and the parking sites throughout the weekend. There is a $5 suggested donation at the Arts Festival entry arbors. All proceeds from the festival fund the education and exhibition programs of South Shore Art Center. The Art Center serves 1,400 school-aged children each year.
A highlight of the Arts Festival is an intriguing sculptural installation made entirely of corrugated cardboard by 18 local high school students on display in the galleries of the South Shore Art Center. "The Kingdom of the Animorphs" features four giant creatures, each one composed of elements of three different real-life animals. Nominated by their high school art teachers, the Art Stars were selected because of their artistic ability, their enthusiasm for the project and their interest in collaborating with other high school students, as well as professional artists/teachers. They have worked together over six Saturday workshops since early February to imagine their animorphs, do preliminary drawings, learn different construction techniques using the cardboard and realize their imaginary creatures.
A jazz reception featuring Kenny Wenzel & Friends will be held on Saturday evening, June 14 at the South Shore Art Center. The $35 ticket includes hors d'oeuvres and a silent auction of art and craft. The auction is open until 3 p.m. on Sunday, June 15. Tickets for the reception can be reserved by calling 781-383-2787 or purchased online. Dinner parties in the company of artists will follow the reception – Tickets for the dinners are $75.
Arts Festival Stage Schedule
Friday, June 13th
1–7 pm Featuring Young Musicians
4:00 Cohasset High School Jazz Bands
5:30–6:30 AWARDS CEREMONY
Saturday, June 14th
10:00 Mary Kennedy Carillon
Noon Rusty Skippers
1:00 Jim Armstrong & His Talented Students
3:00 Ruby Rae
4:00 The Infractions
6:00 Siobhan Magnus & Brian Stratton Group
5:30–7:30 pm JAZZ RECEPTION at the Art Center
Sunday, June 15th
Noon The Earth Tones
1:00 The Chickens
2:00 The BUZZTONES Rhythm Review
4:00 South Shore Bay Band
For more information and to see a preview of the art and craft exhibited visit www.ssac.org/festival.