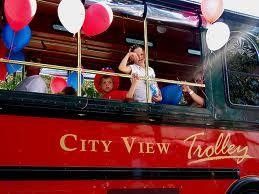 flickr.com
Grab your friends, family or maybe just that special someone and get ready for a fun day in Boston. If you aren't interested in spending the day driving around a place your not too familiar with, then you need to jump aboard the City View Trolley Tour in Boston. What better way to see the city and learn about all the historical places and events that are ever so present here. Enjoy the open air trolley as you wisk through the city. Jump off and on as you please with the all day pass. Included in your all day pass is a "free" ticket for the Harbor Cruise.
Your knowledgable tour guides are ready to fill you in on all the local history and historical buildings and sites. Since this is an all day pass you have the opportunity to jump off and get back on at your leisure, choosing which places you would like to spend the most time at. What a great way to sit down and grab a little lunch or dinner after all that shopping you might do.
There are different trolley tours that you can jump aboard. The "Boston" tour, the "Freedom Trail" tour, and the "Key West" tour. The choices vary from shopping and dining to visiting the historical freedom sites that Boston is so famous for. If your interested in special events tours such as weddings, birthdays, or just large group get togethers private tours are available.
You might also be interested in:
cityviewstrolley.com