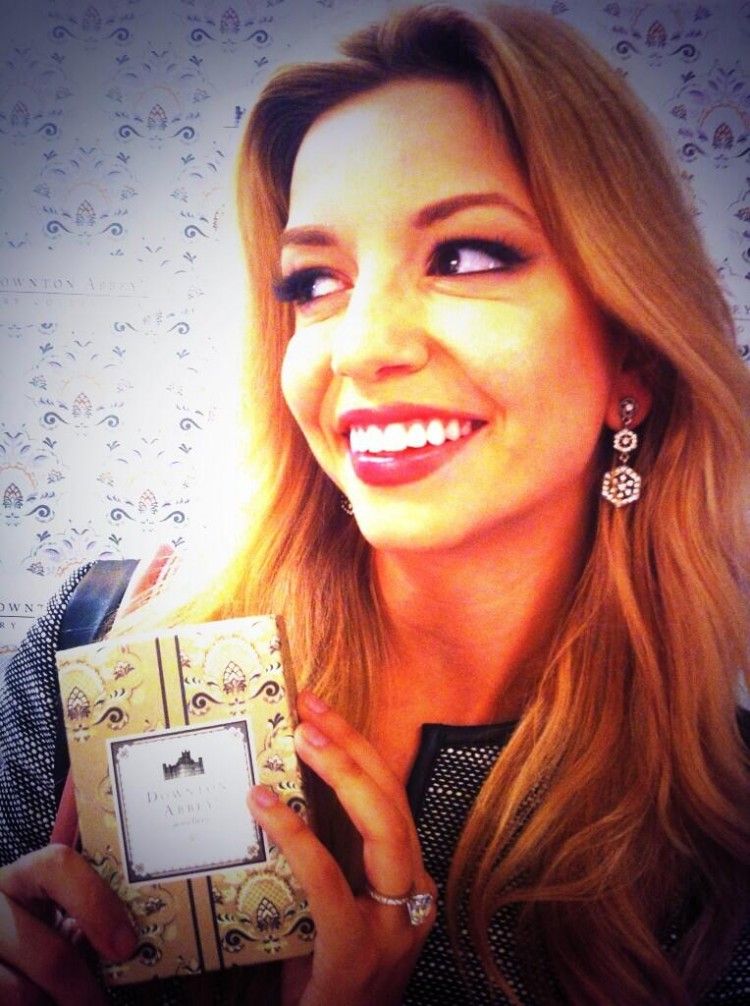 by Vicki Arkoff
The Secret Room Events' 2013 style lounge in honor of the Emmy Awards buzzed with television VIPS and media invited to see, sample, and select the latest in fashion, beauty, health, and interior decoration, high technology, and family products.  Attendees included actors from
Big Bang Theory, House of Cards, New Girl, Dexter, Criminal Minds, Glee, CSI: Miami, Dark Skies, Newsroom, Devious Maids, The Neighbors, Fox Sports,
 and
The Hunger Games
.
Held at the Century Plaza Hotel on September 14, the event benefitted The Children's Hospital, and honored the Made in Uganda fair-trade organization and its new Akonye Kena initiative in partnership with the Kennair Educational Foundation to assist self-sufficiency.
The day was highlighted by the personal appearances of fashion and jewelry designers, tech product inventors, and skincare developers. Millenery star Louisa Voisine was in attendance, modeling her flamboyant special occasion hats and "fascinators" including winning bonnets from the Kentucky Derby and Del Mar Racetrack contests. Jeweler Dallas Prince displayed her distinct, one-of-a-kind luxury jewels and offered signature pieces such as her AGATA Spectum "Twilight Blush" 30 carat earrings on loan to celebrities walking the Emmys red carpet. Cherise Noel personally selected beautiful lariat necklaces from her elegant handcrafted line for guests including Stef Dawson, who said her pearl strands "will always remind me of my character, Annie, in
The Hunger Games
." Amy Vance was on hand to share her all-natural Vance Family Soy Candles, while the designer of the new
Dowtown Abbey
jewelry line for 1928 Jewelry previewed his Victorian-inspired necklaces, earrings, bracelets and cufflinks before their Fall market launch.
On-site presentations included several product debuts, including beauty product breakthroughs. Real Chemistry CEO Karen Griffin demonstrated her innovative 3-Minute Precision Peel, a gel that "painlessly removes 50 cellular layers of skin by gently binding the protein cells" without of harsh chemicals or abrasive scrubs. CA Botanica president Ursula Wagstaff unveiled the new Doctor D. Schwab skincare line including G.S. Ginkgosome Day Time Serum and Flawless Skin-Tinted Moisturizer made with organic grape stem cell peptides, olive fruit extract, shea butter and green tea extract. NeriumAD gifted a night cream designed to reduce the appearance of lines and wrinkles using the extract of the Nerium geranium plant; and Senté displayed Dermal Repair Cream, a medical-grade formula with glycoproteins.
The event's most impressive item was the HoverCam Mini5, the world's smallest 5MP USB document camera ideal as a portable scanning solution for people on the go. As small as a candybar, the Mini 5 – designed by Ji Shen and manufactured by San Diego's Pathway Innovations & Technologies — is a portable scanner with software that can also record a video or upload to the Internet. Also presenting gadgets and gizmos were Kidecals clever computer keyboard decals; and Revel Body reps, discretely demonstrating "the world's first sonic powered personal massager."
Grownups sipped Fuchen herbal liqueur and Gershon Bachus Vintners' limited edition wines from the Temecula Valley, and considered kicking the smoking habit with Rejuve electronic cigarettes, e-hookahs, and "vape" juice. A baby and kid lounge featured Petunia Pickle Bottom's super-chic designer diaper bags and matching baby journals; My Brest Friend's patented wrap-around breast-feeding support pillows; Quinny's sleek baby strollers and car seats; and Majestic Home's chic, brightly-covered beanbag chairs, loungers, ottomans, and pet beds. In the middle of all the hubbub, guests enjoyed mini-salons, including individual eyelash extensions by Sayaka Lea who'll soon open a salon on Melrose Place in West Hollywood and formaldahide-free manicures by Costa Mesa-based Lollipop Nail Salon.
Nominees including Jeff Daniels, Jon Hamm, Kevin Spacey, Claire Danes, Vera Farmiga, Robin Wright, Elisabeth Moss, Kerry Washington, Aaron Paul, Peter Dinklage, Alec Baldwin, Jason Bateman, Jim Parsons, Matt LeBlanc, Tina Fey, Lena Dunham, Amy Poehler and Michael Madsen received travel packages to seven luxury destinations: Cala Luna Boutique Hotel and Villas, Costa Rica; Hacienda Beach Club & Residences, Cabo San Lucas, Mexico; Thomas George Estates, Napa, California; Old Bahama Bay Resort & Yacht Harbour, Bahamas; Valentines Resort & Marina, Bahamas; Casa Colonial Beach & Spa, Dominican Republic; and Little Arches Boutique Hotel, Barbados. Nominees were also given a 30-day VIP membership to the Laser & Aesthetic Center in Carlsbad, California clinic for treatments.
by Vicki Arkoff
Stef Dawson in Charise Noel jewelry
Courtes Dallas Prince
Dallas Prince Designs
Courtesy Louisa Voisine
Louisa Voisine Millinery
Courtesy Petunia Pickle Bottom
Petunia Pickle Bottom
Courtesy Secret Room Events
Michael Madsen and family