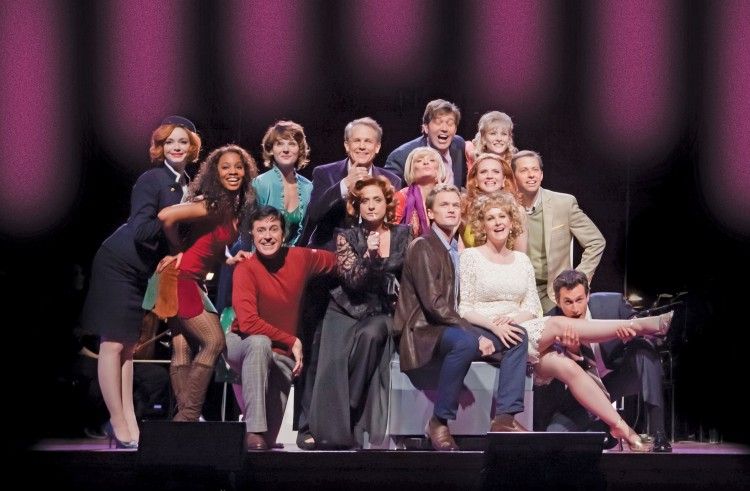 Photo Courtesy of THIRTEEN/PBS
The first great Fall television special arrives this week, and as a stellar bonus, it's another gem in PBS' 40th anniversary celebration of "Great Performances."
Airing Friday, November 8 at 9 p.m. as part of the PBS Arts Fall Festival, is "Stephen Sondheim's 'Company' with the New York Philharmonic" for the PBS Arts Fall Festival Great Performances presents the New York Philharmonic's concert staging of Stephen Sondheim's award-winning musical Company with an all-star cast including Craig Bierko (as Peter), Stephen Colbert (as Harry), Jon Cryer (as David), Katie Finneran (as Amy), Neil Patrick Harris (as Robert), Christina Hendricks (as April), Adam Lazar (as Paul), Patti LuPone (as Joanne), Jill Paice (as Susan), Martha Plimpton (as Sarah), Anika Noni Rose (as Marta), Jennifer Laura Thompson (as Jenny), Jim Walton (as Larry), and Chryssie Whitehead (as Kathy). The show is captured from the stage of Avery Fisher Hall at New York's Lincoln Center for the Performing Arts.
Sondheim specialist Paul Gemignani conducts Jonathan Tunick's original orchestrations arranged for a 35-piece orchestra. Lonny Price — who directed "SONDHEIM! The Birthday Concert" on "Great Performances," directs; Josh Rhodes is the choreographer. Ellen M. Krass produced this concert production for broadcast. Set in a swinging New York City evocative of the time of the show's 1970 Broadway debut, "Company" follows perennial bachelor Robert (Harris) on the occasion of his 35th birthday as his five married couple friends gather to celebrate and offer varying degrees of relationship advice. Their interactions are presented in a series of vignettes, primarily through Robert's eyes. The show's many Sondheim standards include "Company," "Side by Side by Side," "The Ladies Who Lunch," "Another Hundred People," "Barcelona" and "Being Alive." In assessing the performance, Stephen Holden in The New York Times praised "the suave, dynamically subtle contribution of the mighty Philharmonic" as well as "the witty musical staging."
"Company" marks Lonny Price's return to the New York Philharmonic, where he had directed and co-produced "SONDHEIM! The Birthday Concert." His previous Philharmonic collaborations include Candide, starring Paul Groves, Kristin Chenoweth, and Patti LuPone in May 2004 (broadcast on Great Performances, Emmy nomination); he directed "Sweeney Todd" with the San Francisco Symphony (also broadcast on PBS; Emmy Award) and helmed the previous telecast of "Company" in 2006, all of which were also produced by Ellen M. Krass. In March 2014 Lonny Price will direct and co-produce the New York Philharmonic's staged production of "Sweeney Todd" starring Bryn Terfel and conducted by Alan Gilbert. In his early career as an actor, Price originated the role of Charley Kringas in the Prince/Sondheim show "Merrily We Roll Along" on Broadway.
Over the course of its four decades, "Great Performances" has provided a national stage where popular artists not only reveal the surprising dimensions of their creative gifts but often surpass expectations. "Great Performances" has also offered artists the opportunity to celebrate and pay homage to the influential figures in their lives and careers, as well as be the first to spotlight emerging artists with their feature-length television debut.