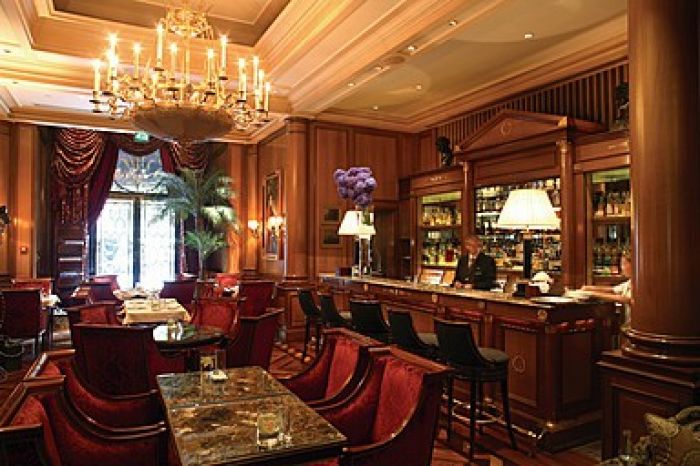 Four Seasons George V
Even if you don't speak a lick of French, I'll bet you've occasionally put the French article "le" in front of a word to make it sound more mock sophisticated (as in, "Pardon me, I'm going to use le bathroom."). In fact, it's such a common sleight of tongue amongst Anglophiles that there are now several Facebook groups devoted to people who can't cure themselves of the practice (one of which describes itself as "Le page for le people who like to speak like le French.").
So, when you hear that the lounge at Paris' plush Four Seasons George V is called Le Bar, you might want to snicker. But don't let that little "le" fool you: there's nothing mock about the sophistication here whatsoever. Au contraire, Le Bar is the zenith of lounging in le lap of luxury!
Dramatic chandeliers, plush red velvet sofas, and deep mahogany paneling create a warm and regal setting for reclining with impeccable cocktails. A large window offers views of thebeau monde strolling past on elegant Avenue Georges V, but the people-watching inside the lounge is just as stimulating. A mix of deep-pocketed hotel guests and posher-than-posh Parisians (on the mature side) gathers here as much for the expertly mixed drinks as for the conversational atmosphere. Though it's located just off the reception in the ground floor hotel, the vibe here is much more intimate and convivial than your average "lobby lounge."
Behind the bar, the tuxedoed bartender whips up the classics or pops bottles of the best bubbly. He'll also fix you up with some sustenance should you desire it. There's a full menu of snacks and canapés, sandwiches, salads, light mains, and desserts, making Le Bar an equally ideal stop for a pick-me-up amid a shopping day on the Champs-Elysées or for a business chat over drinks. By day it's smart casual, but it gets downright dressy after sunset; I'd wear a classic Parisian chic black getup during the daylight hours, but up my game to a cocktail dress later on.
From the libations to the decorations to the patrons, there's not much I would change about the Old World charms of Le Bar, and that's saying a lot. The lounge calls itself the rendezvous incontournable–a "must-do" for visitors to Paris and locals alike. I would have to agree! Le Bar really is le bomb.
Read more about Le Bar in Our Paris Guide
Click here for our full-form mobile travel guide, The Purple Passport to Paris
Rachel Levin contributed to this story