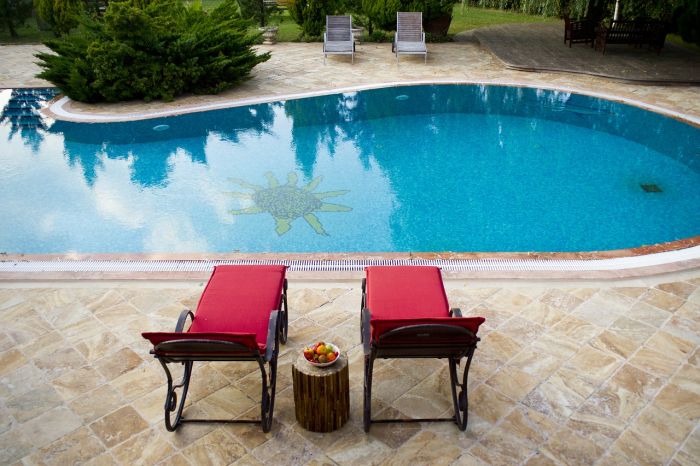 Photos Credit: Pixabay.com
There are few things more enjoyable on a scorching afternoon than enjoying yourself by a pool. If that pool is your own, you also get the much-needed privacy, which means you can make the most of your free time. However, it's not just the pool that is important, but the whole poolside area as well. Depending on the space available and design, you can use that area for entertaining guests, dining, relaxing and sunbathing. Basically, it improves the quality of your life. So, if you're lucky enough to have your own pool, have a look at the following ideas for the poolside area, which might help you improve the experience even more.
Sun Deck Patio
It's great to have some space where you can simply relax after a refreshing swim, have a drink or read something. A sun deck is located next to the swimming pool and it provides a very stylish look if you install a few chaise lounges. You can also go for an in-pool sun deck or tanning shelf to create even better conditions for relaxation. It is a shallow area at the entry of the pool that allows you to enjoy both the sun and the water. Just make sure you wear some good sunscreen!
Bistro Patio
Those who are pressed for space in their yard might want to consider installing a small bistro table and a pair of matching chairs close to the pool or have a small pathway leading up to the set. Having a private nook that you can easily relocate opens up many opportunities for you to play around and change the position of the table and chairs depending on the time of the day, for example. Also, if you can add a fire pit, you'll probably get one of the most romantic parts of your home.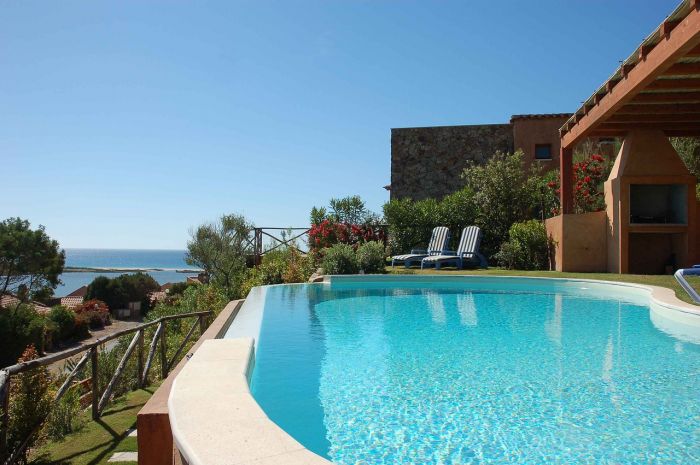 Nature All Around
You could also add plants and natural materials to your poolside area and get a much more natural environment. If you can enclose the pool in lush greenery, you'll be able to have a secluded area, though you have to be careful with leaves and flowers falling off and ending up in your pool. Also, think about adding a water feature, such as a fountain to add a touch of serenity to your backyard. If that's too much water for you, stick to plants and rocks around the pool area.
Covered Patio
If you're not a big fan of sunbathing, but love spending time outside by the pool, a covered patio might be the best solution for you. Just imagine having a wooden pergola, for example, next to one of these swimming pools built in Sydney, and your family and friends enjoying themselves. Of course, there are many other options for covering the patio and you should choose the one that reflects your taste and that you can afford. The most important things are that it serves its purpose and that you can relax.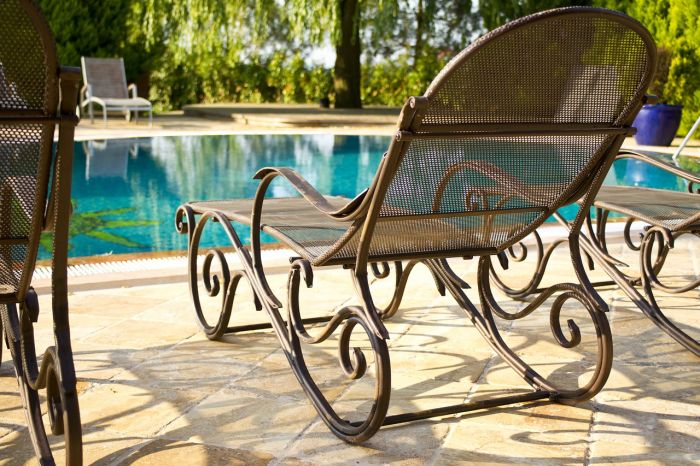 Outdoor Room
One of the trending features when it comes to poolside design is definitely an outdoor room. Equipped with some modern patio furniture, this space can provide much desired comfort in a beautiful setting by the pool. If you add an outdoor kitchen, you can prepare food and eat it straight by the pool. Also, it's much easier to cook outside in hot summer evenings. Finally, you can round off the luxury with an outdoor TV or home theatre, which you and your guests can enjoy.
Depending on your lifestyle and available resources, you can chose from many different ideas for poolside design. Whether you make that space your private, secluded area or decide it should be the focal point of the whole yard and a place where parties and dinners are organized, depends solely on what you want.The important thing is to cultivate the place to suit your needs and not let it untouched.