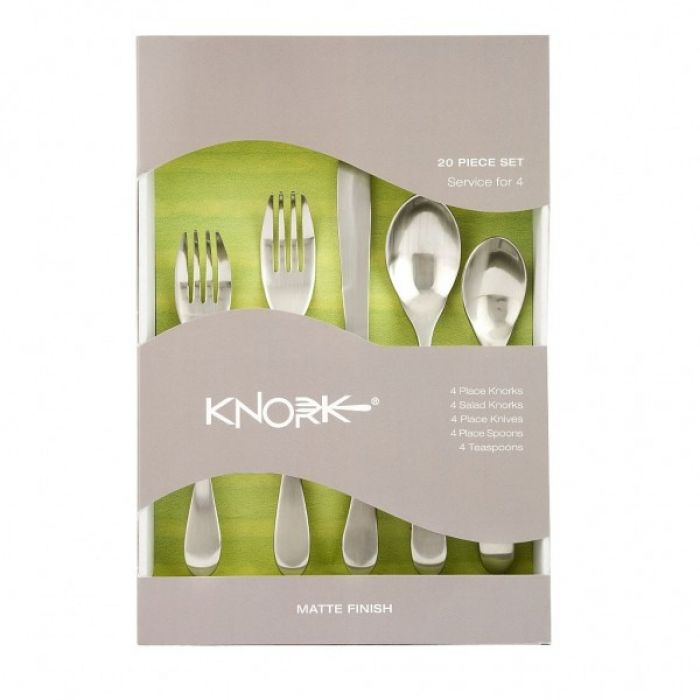 Knork
Eating at home just got a whole lot more stylish. Meet Knork, the trendy new "it" wear in flatware. This silverware is ergonomically designed to hold your hand in place correctly and naturally when eating.
To achieve this, the folks at Knork have created a line of flatware with comfort, style and stability in mind. We love the 20-piece set for four with matte finish made of 18 percent chromium (and so does Bravo's Top Chef and Rachel Ray).
Included in the set are five-piece place settings - Dinner Knork, Salad Knork, Place Knife, Place Spoon and Teaspoon. Each simple yet comfortable modern design has a single solid bar of stainless steel with brushed satin finish.
This might be the easiest way to modernize your kitchen's look without renovating. Whoever said dining should be a simple fork and knife affair never met Knork. When you place one of these balanced utensils in your hands, you will realize you are in for a special dining adventure using less work and more time to enjoy your food.
The stainless steel flatware, which is dishwasher safe, was created by Michael D. Miller who sought to enhance the dining experience by integrating a fork with the functionality of a knife built in. Knork.
For more information, visit www.knork.net.