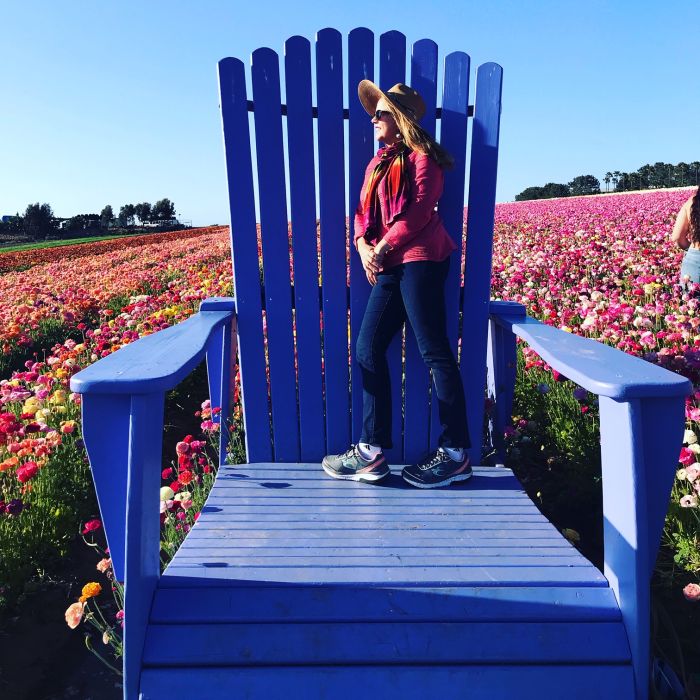 Kate Weinlein
Once a year, a sloping hill in Carlsbad, California becomes ablaze in a rainbow of vibrant colorful ranunculus each Spring. Located between LEGOLAND and the Pacific Ocean, colors of merlot, purple, salmon, pink, gold, yellow and white can be seen from the highway. Thousands of visitors pay an entrance fee to take a tour of the largest agritourism destination in Southern California.
This year the farmers placed some fun props in the fields for Instagrammable moments. There is a tractor and enormous adirondack chairs for visitors to sit on among thousands of blooms in varying stages starting March 1 through Mother's Day weekend.
Tecolote ranunculus grows from the finest strain of ranunculus seeds, originally from the Asia Minor, located at the top of Turkey. What makes these flowers unique is the seeds develop into a tuber producing a buttercup shaped flower that is 14″ to 24″ tall. Planted in stages, some of the flowers are cut, while others stay in the field for farmers to collect the seeds and replant in the same field for the next season.
Flowers and bulbs are harvested and packaged to sell at the onsite Armstrong Garden store for the public to take and plant at home. Guests visiting the Flower Fields can ride in a wagon pulled by an antique tractor with an audio commentary sharing the history of this one-of-a-kind farm.
Even though ranunculus are the stars, another beautiful sight is a large American flag made with rows of red, white and blue petunias. There is also an interactive flower maze made with blooming, colorful and fragrant sweet peas.
Throughout the year there is an immersive history of the poinsettia plant exhibit, and a large greenhouse showcasing cymbidium orchids in a multitude of colors.
During April and May, special events include live musical performances, flower arranging classes, photo workshops, tea in the gardens, and sunset wine tasting with small bites while overlooking the super bloom.
Visiting Carlsbad during Spring, local hotels and restaurants celebrate the beauty of The Flower Fields with special floral activities and culinary menus.
Go to Visit Carlsbad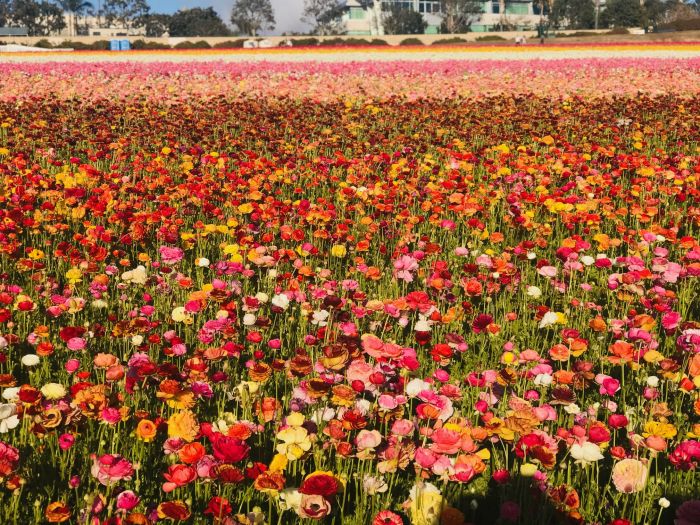 Jill Weinlein
A super bloom of Ranunculus in merlot, pink, salmon, purple, gold, yellow and white can be seen from the highway driving into the beachside town of Carlsbad.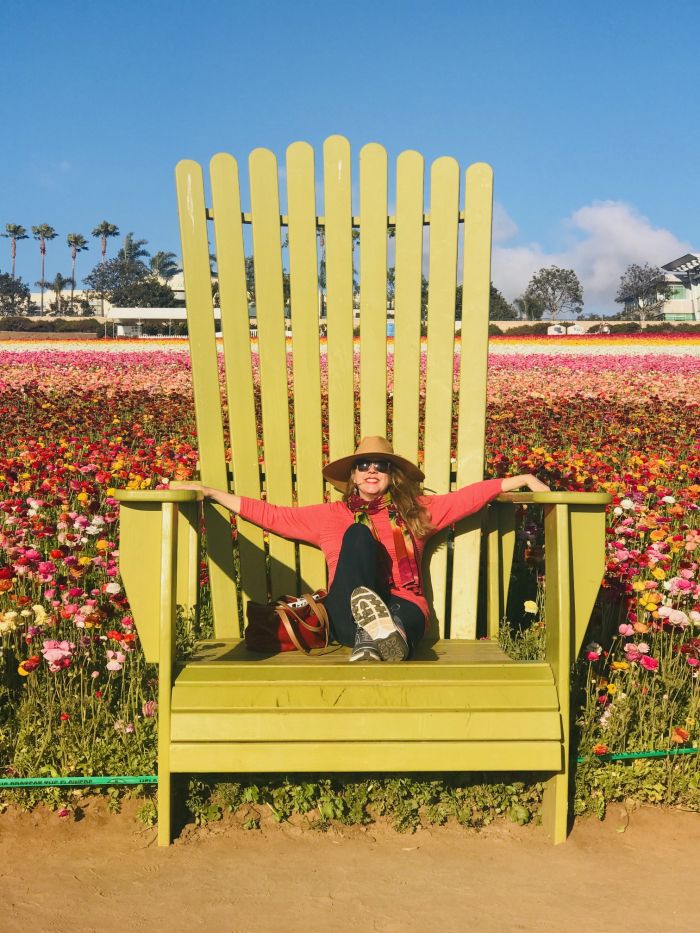 Kate Weinlein
Oversized props are fun for visitors to use for Instagrammable moments.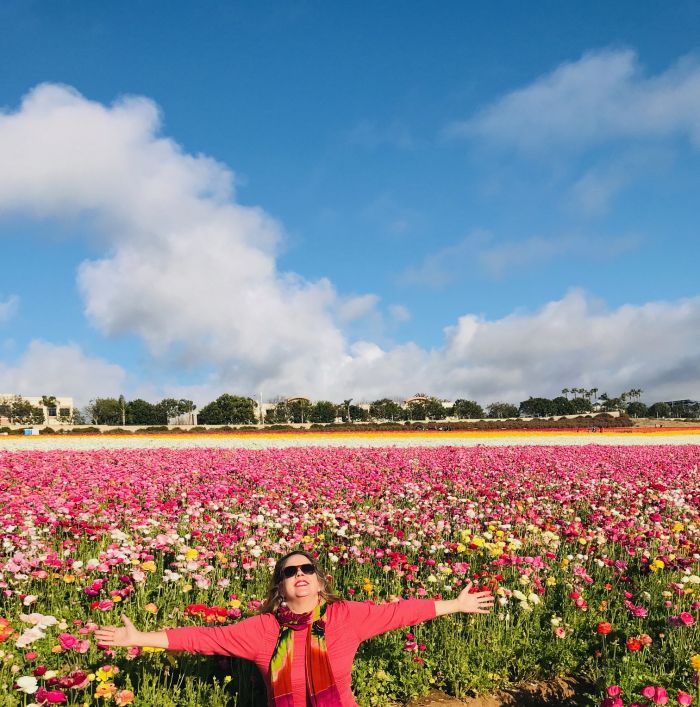 Kate Weinlein
Carlsbad offers one of the best Super Blooms in California.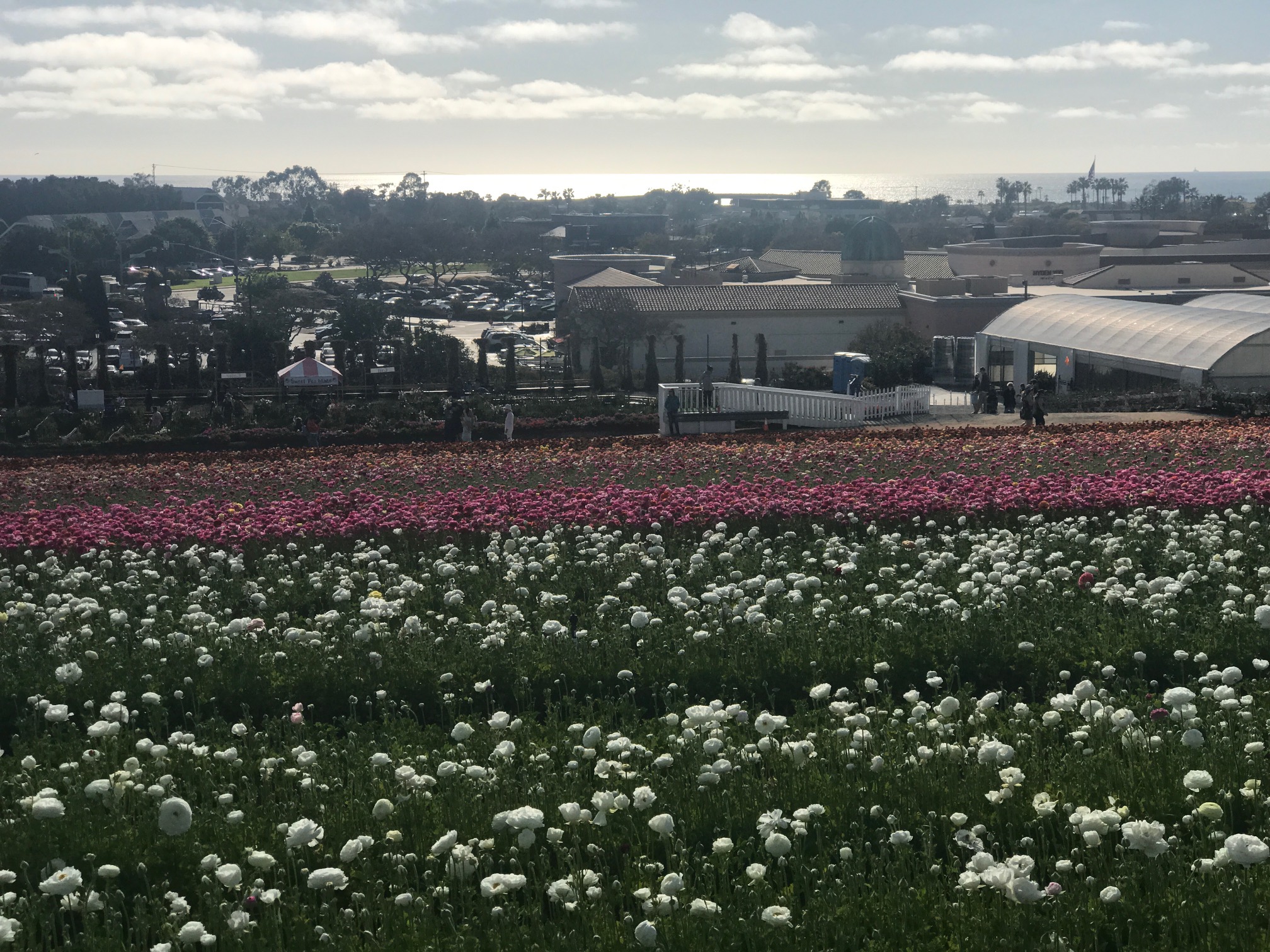 Jill Weinlein
A super bloom of ranunculus near the Pacific Ocean in Carlsbad.