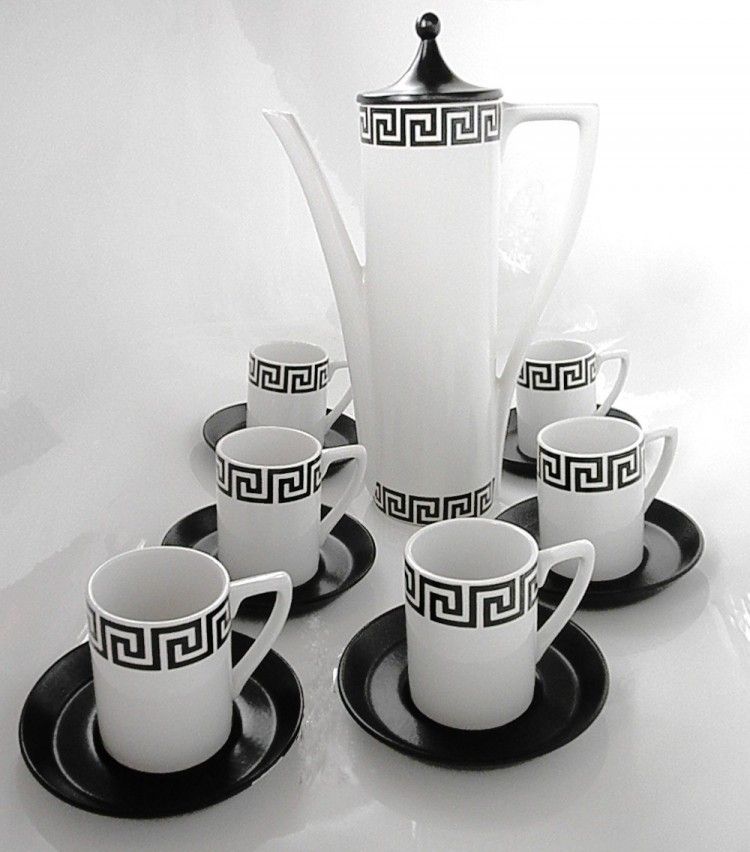 http://www.fancy4glass.ca/
The visionary behind Portmeirion Pottery

In the world-renowned Potteries of England, where ceramics have been made for hundreds of years, there is no more iconic name than that of Portmeirion Pottery.

For more than 50 years, the brand that was the brainchild of designer Susan Williams-Ellis has led the way in cutting-edge design, striking patterns and quality ceramics. The history of Portmeirion Pottery is an extraordinary one, inextricably bound up with that of its namesake, the Welsh resort of Portmeirion.

Desperately Seeking Susan

Susan Williams-Ellis was born in 1918, the daughter of architect Sir Clough Williams-Ellis. He had bought Portmeirion in 1925, and recreated it in the style of an Italian coastal resort. An art student taught by Sir Henry Moore at Chelsea Polytechnic, Susan went on to manage the Portmeirion souvenir shop after her marriage to Euan Cooper-Willis.

Her flair for ceramic design came to the fore when she resolved to source better gifts for her store, and commissioned the Stoke-on-Trent firm of A. E. Gray to produce her designs. Her designs proved so popular in Portmeirion that soon a second branch opened in London.

Susan's talent for creating ceramics that appealed to the mass market led her and Euan to buy A. E. Gray in 1961, before purchasing a second Stoke pottery business, Kirkhams, merging the two to become Portmeirion Pottery in 1962.

Perfect Pottery

Susan Williams-Ellis was a woman ahead of her time when it came to ceramics design. Her patterns were considered revolutionary, and two of her earliest designs, Malachite in 1960 and Moss Agate in 1961, were much lauded by the critics for their bold use of colour.

Portmeirion Pottery really took off with the geometric designs of Totem in 1963. Using spirals, dots and circles in bright colours such as amber and cobalt blue, Totem and its distinctive tall coffeepot, became an enduring symbol of the Swinging Sixties.

Susan had tapped into the zeitgeist and her knack for knowing exactly what appealed continued to pay off.

Many of Susan's 1960s' designs are now collectables around the world, in particular the cylindrical shapes of Samarkand and Magic City, with their depictions of places that avid traveller Susan had visited.

Nature's Inspiration

Portmeirion Pottery's most famous range is Botanic Garden. Launched in 1972, today its worldwide annual sales are the mainstay of the company. Its design is indicative of how Susan often found inspiration in the least likely of places - she and Euan had come across a book in an antique store in London. Printed in 1817, the book was entitled The Universal, or Botanical, Medical and Agricultural Dictionary, and featured extraordinary botanical illustrations.

Inspired by this return to nature, Susan recreated the illustrations on her ceramics, including Venus flytrap and purple iris. Botanic Garden produced hundreds of different patterns and pictures so no two collections would be the same, a departure from the norm that critics felt would put buyers off. On the contrary, sales of Botanic Garden took off instantly and continue to this day.

The vision and unique talent of Susan Williams-Ellis, who died aged 89 in 2007, lives on today, in the thriving Portmeirion Pottery.

Guest post contributed by Patrick on behalf of Swallow Aquatics. Patrick is trying his hand out as a freelance writer where he shares his interior design insights. Visit their website to find out more about Portmeirion tableware.
http://www.abitofbritain.com/i