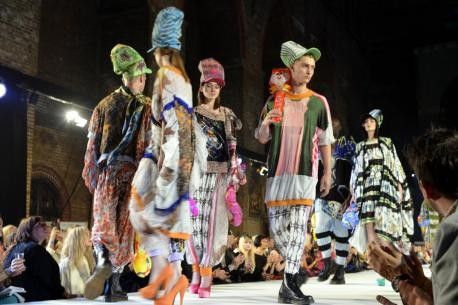 Image via theargus.co.uk
I honestly don't know what I'm looking at, but I do know thatit'sbilethat'srising my throat. I'm willing to admit that I may be behind the times, but dear god fashion industry, don't let this become the future! Presenting a bizarre mixture of... I don't know what in Brighton, the Sustain Catwalk Show probably did more damage to their otherwise noble cause than they realize.
Brighton Fashion Week started in style after A-list celebrities were spotted taking a front row seat on the opening night.
Singing sensation Charlotte Church was one of 500 guests who packed into St Bartholomew's Church to watch the opening Zeitgeist show on Thursday night.
On Friday, the singer Tweeted: "I had such a good time at the zeitgeist show in Brighton. The clothes were incredible. Jess Eaton is an absolute G!"
Brighton designer Jess Eaton returned for her third year at BFW as the headline act and received a standing ovation for her Roadkill Couture collection. (Read More)