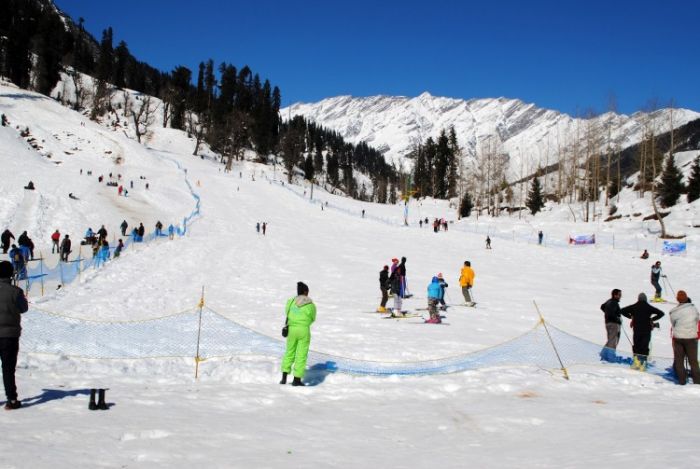 http://yhaidelhi.blogspot.in
Are you yearning to take out your loved ones to a place where nature beauty resides at its best? Beautiful greenery, likable ambience, lovely valleys, fantastic apple orchards, lush deodar and pine trees, picturesque waterfalls and picture-perfect hill resorts with superb amenities all these can be found at three beautiful destinations of Himachal Pradesh- Shimla Kullu and Manali. Spending Valentine's Day at a place where such beauties exist, one couldn't ask for anything better. With the majestic opulence of the Himalayas on one side and adventure on other, vacations at these three hill stations is going to be superb and memorable for a lifetime.
Know about Shimla, Kullu and Manali tourism in detail:
Shimla
Relish the profligate greenery and scenic beauties of Shimla at an altitude of 7234 ft above sea level. Tourists in abundance throng here to pamper themselves in oodles of the opportunities. The destination is worth deserving as it offers so many adventure yet sightseeing options in the idyllic and cool weather. Besides this, one can purchase fashionable and designer clothes from the famous mall road. No other place can be perfect for the couples for savoring the fabulous vacations amidst the natural surroundings. It is indeed the perfect place to have lots of fun and entertainment. Some of the highlights of this destination are Christ church, Jakhoo hills, Kufri, Indian institute of advanced studies, viceregal lodge, prospect hill and state museum.
Kullu
Positioned on banks of the Beas River in the state of Himachal Pradesh, Kullu is a favored destination among the nature lovers, pleasure seekers and honeymooners. The place is blessed with superb gorges, snow capped mountains, natural hot springs, lush meadows of wild flowers, exquisite gardens, exotic views and fabulous attractions. During the tour, one can also wallow in the various adventurous activities like whitewater rafting, paragliding, rock climbing, angling, trekking and mountain biking for fantastic experience. Places of interest for tourists in Kullu are Manikaran, Raghunath Ji temple, Shringi Rishi Temple, Raison, Kasol, etc.
Manali
Manali offers almost everything what a person would wish to be there in their holiday destination. Situated at an elevation of 2050 m on the national highway heading to Leh, it is certainly the top choice of every individual seeking comfy time with their special ones. One can also opt for Kullu & Manali weekend packages to savor the excursion to the fullest and have the stupendous moments of a life. Gifted with breathtaking sceneries, lovely orchards, adventures and stunning attractions like Rohtang Pass, Jagannath Devi Temple, Pandoh dam and Hadimba temple, anybody would feel that they have stepped into a paradise.
To make this overall trip superb and wonderful, don't forget to stay at the exotic Manali hotels, proffering plush amenities to render a delightful experience. Some of the eminent hotels are:
·         Holiday inn Manali
·         Camp Exotica
·         Manu Allaya Spa Resort
·         Hotel New Adarsh
Thus, take your loved one to the most beautiful hills of Himachal Pradesh and make her feel special this Valentine's Day.