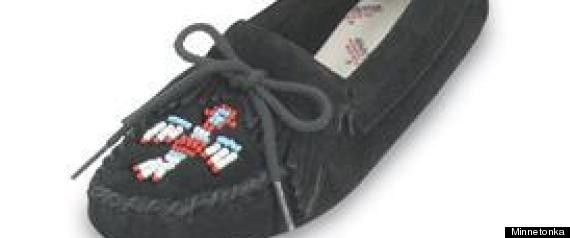 Minnetonka
Another crime in fashion. This time it is Minnetonka Moccasins is accusing Target of knocking off its signature shoes. This week the Minneapolis-based company whose earthy moccasins have been spotted on the likes of Kate Moss and Lindsay Lohan sued Target for trademark infringement.
In court filings, Minnetonka claimed Target copied its iconic "Thunderbird" design, a small, beaded bird on the shoe's toe.
Acording to the lawsuit, just months before Target came out with its moccasin in early 2012, the megaretailer approached Minnetonka with a business proposal: selling Minnetonka moccasins in Target stores. Target, which is also based in Minneapolis, "made multiple proposals ... offering 'prime real estate on the floor' of Target stores for the moccasins made by Minnetonka," the shoe company wrote in its initial complaint.
So did Target knock-off the brand after failed attempts to carry the real thing? Read the full story at the Huffington Post.