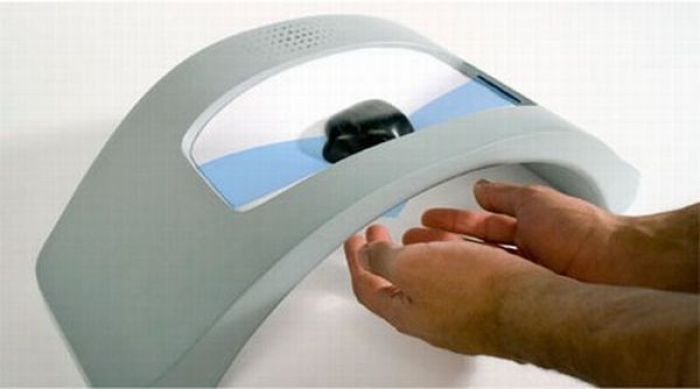 http://www.instablogsimages.co
It is the 21stcentury, right? It is the era of vast technological advancements. Scientists and engineers all over the world have done their part in making everything a little bit easier to the human race. You have a thingamajig that helps you do something that you have to do, but you don't feel like doing it – and the list of such gadgets is very, very long. But, this article is not about technology in general. It is about a small branch of it that deals with designing and manufacturing faucets – a very important thing in every bathroom. When you go through this article you will be amazed at what people have come up with as time passed. I have to admit, when I saw these faucets, I was amazed myself. So, without further ado, here they are:
The Kohler Karbon Kitchen Faucet
This faucet design will most certainly make your kitchen look more contemporary and more modern. The best feature of this one has is flexibility. You can make the water flow in almost any direction you want. Imagine how much options you have, just when talking about food preparation. When talking about dishwashing, well, how can't it be easier with a more flexible faucet? The materials used in the making of this product are stainless steel, carbon fiber, and the faucet itself is chrome-polished. It features two different spray modes, and will certainly be a good investment (if you have the money, of course).
The Illuminated Kitchen Faucet Spot
A faucet with a power of illumination – sounds rather futuristic, doesn't it? Well, it exists. It is a perfect contribution to a contemporarily designed kitchen or bathroom. It is very good-looking, and thus it will impress literally anyone who sees it. You control both the water flow and the water temperature by simply gliding your finger over the touch-sensitive control pad that this faucet features. It will make the time you spend in the kitchen or in the bathroom (or both) more fun, if nothing else.
The Nomos Faucet
When talking about hi-tech faucets, one cannot forget the Nomos Faucet, which is an excellent design that comes from Italy. With it, you can adjust the temperature and pressure of the water, logically, but the list doesn't stop there. You can also keep track of the quality of water, which is nowadays very important. Within the purchase, a touch-screen gadget is included. It has various icons and other graphic representations that will aid you in managing everything related to the water. It is definitely a good choice.
The Flexible Kitchen Faucet Hybrid
We have already covered flexibility with the first faucet example. However, this product takes flexibility to a whole new level. The supporting bar is large and strong. LED lights are used to illuminate the dial, contributing to the overall futuristic looking design. The color of these lights changes depending on the water temperature – cool, right? Furthermore, it comes in different colors, so you are bound to find the one that will perfectly fit the rest of your room design.
Dome shaped Faucet
As John Cleese from the famous Monty Python's Flying Circus would say: "And now for something completely different" – this faucet is certainly not your traditional faucet design. The water flow is controlled by a stone that can be moved either to the left or to the right. When you are done with using the faucet, you simply put the stone back to its original place, and the water stops. This design is dedicated to all those who are not afraid to think outside the box and make their bathroom or kitchen a little bit more interesting to the eye.
With this fifth example, I will end this article. I will leave you with the knowledge that this is not everything in the high-tech faucet making industry and that there are several more examples for you to explore. Feel free to stop by local stores to ask around and see what is available. You can always simply continue on researching for more articles on this subject that do exist on the internet. You just have to find them.
http://www.trendir.com/archive
Lighted Faucet