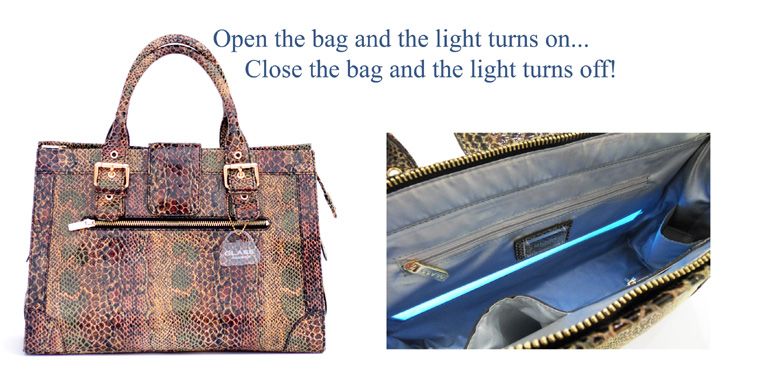 Glass Handbag
Fashion photographer Tamara Leuty has invented and designed a luxury handbag with integrated lighting system. The light system allows the contents of the handbag to be seen easily in low light and dark conditions.
Adapting this technology to a practical use is a testament to the possibilities of technology today. This fashion meets function product brings technology to a daily use product. Problems such as finding the car keys in a dark parking lot or seeing in a dark restaurant or night club is no more.
The new line of luxury handbags also adds safety as owners can see inside the bag quickly in potential precarious situations.  This safety feature is welcomed for any woman who works late or enjoys a light out.   The Emerald bag in the collection also has custom hardware which could be used to thwart attackers if the situation presented itself.The patented system includes an automatic switch; open the handbag and the light turns on, close the handbag and the light turns off. This light panel is a flat, flexible, unobtrusive, non-heat producing, and is almost indestructible. These genuine, hand-made leather handbags use common triple A, TV remote type batteries.  The cost to operate these handbags can easily be kept under $2.00 per month.  Using rechargeable batteries would eliminate any ongoing expense.
The high quality of these bags can be seen through the authentic leather; in succulent black, blue, green and other custom colors.  The Emerald, Onyx, and Sapphire all have iridescent qualities that show other colors in certain lights.  The custom hardware on many of the handbags is second to none and created with fashion and function.
The entire Glass Handbag collection is available now at www.glasshandbag.com and is comprised of handbags with a light panel built inside but without compromising the common function of a handbag.  These leather handbags, leather totes, and evening clutches are available in a variety of colors and textures. 
Glass Handbag
Large Tote
Glass Handbag
Classic
Glass Handbag
Diamond Girl