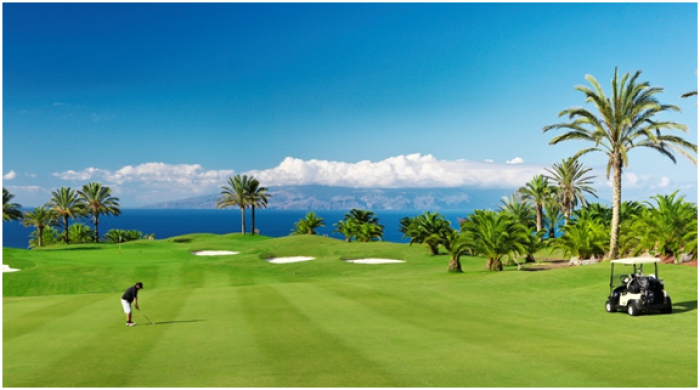 www.abamahotelresort.com/
Known internationally as the 'Island of Eternal Spring', it is no wonder Tenerife attracts an estimated 5 million tourists each year. With its temperate climate, breath-taking beauty and sparkling blue seas, it's hard to resist a winter excursion to Tenerife.
The largest of the Canary Islands, Tenerife offers plush vegetation towards the north of the island and hot sun-soaked beaches in the south – an area which appeals to the majority of tourists. The unspoilt natural beauty and cooling trade winds also make Tenerife an ideal location for the out-of-season golfer looking for somewhere to pack up their putter and head to hit a few balls when the colder months descend on Great Britain.
The popularity of the island with golfers is recognised by Tenerife's extensive facilities across multiple courses on the island. Playing = at each and every course may be a dream realised for some, but unfortunately this isn't always possible, so here are the top golf spots that you won't want to miss during your break to Tenerife.
Abama Golf
Opened in 2005, the Abama golf resort is spread over 6,271 metres and contains an impressive 22 lakes and a staggering 25,000 palm trees which all add to the natural beauty of this course, where most greens provide breath-taking views across the Atlantic. Due to the Abama golf resort being located on the south-west of Tenerife, the course benefits from dry, warm temperatures and gentle trade winds.
The golf resort also features a training academy to allow even a beginner to master the basics during their break. Green fees for visitors fluctuate dependent on the season – the 2013 summer season incurred a fee of €123 for 18 holes, whereas the upcoming winter season sees tourists paying €130, or €150 for the week between Christmas and New Year.
Golf Las Americas
Located on the sunny southern half of the island, Golf Las Americas attracts many golf-playing holidaymakers due to their extensive facilities and close proximity to the airport. The 18-hole 72 par course was opened in 1998 and features a series of ditches, gullies of water and beautiful surroundings to entertain and challenge even the more experienced golfer.
Golf Las Americas has an on-site coach who provides either 9 or 18-hole classes for those looking to polish their swing whilst on holiday. A round of 18 holes on the course varies from season to season, and typically can range from a green fee of €58-95.
Real Club de Golf de Tenerife
Based on the less commercialised north side of Tenerife above the Teide National Park is the Real Club de Golf de Tenerife which is the second oldest club in Spain, having first opened in 1932. The club is home to a par 71, 18-hole golf course which is renowned for being challenging and rife with natural obstacles, so may be best suited to a golfer of at least intermediate level.
The club boasts over 1,000 members and is open to visitors too, where one-off players can pay a green fee to tee off at this course. From May to September this fee is €50, which increases to €75 during October-April as tourists looking for some winter sun flock to the island.
Amarilla Golf
The Amarilla Golf course is based on the very southern tip of Tenerife, making it an ideal location for the golfer who wants to soak up the sun as well as sink a few shots surrounded by beautiful scenery. Designed by golf writer Donald Steel in the 1980's, the 18-hole course reflects Steel's preference for natural beauty and tradition and once hosted the PGA European Tour.
A second course is currently under development to give golfers more choice for their game away from home. Like other major courses on the island green fees change dependent on the season – prices for 18 holes at Amarilla Golf currently vary between €67 and €82.
Climate in Tenerife
Tenerife is located on a latitude of the Sahara Desert, meaning that it benefits from a warm and temperate climate almost all year round, with highs in the summer reaching around 27 degrees Celsius and dipping to a mild 15 degree Celsius in the winter.
The island is relatively dry, with May-September staying almost rain-free. The north side of the island receives the majority of Tenerife's precipitation.
Other activities in Tenerife
If you want to sample some of other activities that Tenerife has to offer in between rounds of golf, then there are a huge host of things to try your hand at.
One attraction that keeps visitors returning year on year is the Carnival of Santa Cruz de Tenerife that takes place every February. This carnival is the second most popular and internationally renowned after the one held in Rio de Janeiro, and is currently campaigning to become a World Heritage Site as recognised by UNESCO.
The official carnival sees more than one hundred groups of musicians and performers take to the streets in traditional carnival disguises. The 2014 carnival begins on January 31st this year with the presentation of the carnival candidates and runs throughout February, closing on March 9th.
If something serene is your scene, then you can make the most of the 25 species of whale and dolphin found in the waters surrounding Tenerife and take a boat trip to watch them in their natural habitat. Most companies offering these tours are based on the south side of the island, and offer excursions on board glass-bottomed catamarans that allow whale-watchers to observe the magnificent marine creatures underwater as well as on the surface.
www.visitingtenerife.com/tener
Weather
www.carnavaltenerife.es/
Image of the Carnival of Santa Cruz de Tenerife