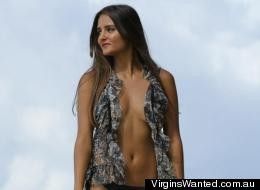 VirginsWanted.com.au
Catarina Migliorini of Brazil has auctioned off her virginity for $780,000, which was won by a Japanese man by the name of "Natsu." I guess if someone is going to remain a virgin until they are 20-years old, why not auction it off for ridiculous sums of money? There is a problem, though; her male counterpart, Alex Stepanov, only raised $3,000, which leads me to realize that I probably would have only made around $50... If that. How do you guys feel about this?
By losing something, Catarina Migliorini could gain $780,000.
The 20-year-old Brazilian woman has been auctioning off her virginity online for the past few weeks and a man from Japan known as "Natsu" came out on top with the winning bid.
Natsu beat out five other bidders after a feverish final day where the price of Migliorini's virtue jumped from $190,000 on Oct. 23 to the final $780,000 price tag. Continue Reading