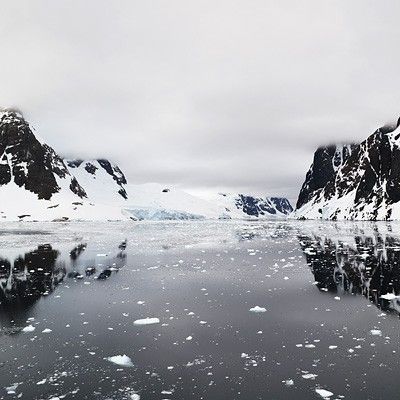 Photos Credit: Lauren Steventon
A long time friend and colleague recently took the trip of a lifetime -- to Antarctica! I would have loved to go, and thought long and hard about it, but was three months pregnant at the time and felt it was too much energy output and too far away from medical assistance, should I have needed it. Instead, I decided to interview her to share with interested readers and live vicariously through her truly once-in-a-lifetime experience.
Suzanne Aaronson: Lauren, was this a trip you'd dreamt of taking? What was the inspiration?
Lauren Steventon: I had never envisaged visiting Antarctica, but the majesty of the scenery even on the website and via the brochure they sent me immediately draws you in!It is easy to see how early adventurers became obsessed with discovering its icy vastness, and why it remains so seductive to explorers today. It is truly like nowhere else. I spent just 10 days onboard Silversea's Silver Explorer and already I am planning my return expedition...
SA: Describe the out of this world topography... please!
LS: The landscape may initially seem familiar from documentaries and movies, but to see it with your own eyes, to step on it, is to fully appreciate its magnitude -- and its wildness. Antarctica is the last unconquered continent. Only around 30,000 tourists visited during the 2013/14 season, and most never made it further than 65 degrees south. However, for those 30,000, I am sure, the experience will stay with them forever.
If seeing your first Antarctic iceberg is one of those unforgettable life moments, setting foot on this iconic landscape is equally awe-inspiring. Penguins wander beside us totally unfazed by our presence, acting out their own sub-zero soap opera -- a budding romance here, a chick born there, a skua attack on the colony in the foreground. A seal sleeps five feet away from eager photographers. Humpback whales feed next to the ship in the midnight sun... Silversea -- and all other tour operators -- make a point of not guaranteeing specific wildlife sightings, but during our trip we saw four species of seal, humpback whales, orca, a plethora of seabirds and Adelie, Chinstrap and Gentoo penguins. And this isn't even considered a particularly ambitious tally.
For every picture of a penguin, I have another of an iceberg, a glacier or an incredible sky. It is an eerie, alien scene, at times bleak and monochrome -- black rock, white snow and heavy grey clouds -- yet at others, brilliant and bright cobalt blue, the sun transforming the looming glaciers into castles of translucent greens and electric blues. One thing remains constant: It is endlessly fascinating.
SA: One of the aspects that interested me most to take the trip was to gain the knowledge of world-class naturalists on board. Tell us about them!
LS: Ah, yes, the lecture theatre. The ship's crew includes a rotating team of 12 Expedition Staff, a collection of experts and naturalists who are onboard to accompany guests on landings and explain the environment, as well as deliver lectures and evening recaps. They are not only knowledgeable and passionate about their chosen fields, but also able to communicate that knowledge and passion in a way that feels both informative and interesting. Whenever you have a burning question there is someone on hand who can answer it. And if they can't, they will find out and come back to tell you in person.
The team on my trip was led by Alaskan-native Kara Weller. This is her 112th trip to Antarctica and her enthusiasm for and knowledge of the landscape and conditions are one of the features that set Silver Explorer apart. On our final day in the peninsula we had planned to visit the historic British base at Port Lockroy but the ice was too thick, and Kara made the decision to head to Neko Harbour instead (a landing that many people named as their favorite). We later heard of another ship that had wasted the entire day trying to get to Lockroy.
SA: With whom would you recommend going?
LS: I'd say as a couple, family or solo -- I met people doing them all. Children under six years old are not allowed on the zodiacs, so can't participate in any landings. To be honest it's not the best trip for them anyway, but older kids will love it.
SA: Recount a really memorable moment -- if you can zero in on just one!
LS: It is impossible to choose. Perhaps the eerie scene of the abandoned base on Deception Island; the Orca pod on the last night; whale watching in the midnight sun -there are so many... However, asking fellow guests on our final day resulted in a number of votes for Neko Harbour. This was surprising as it was the unscheduled stop we made when we couldn't get into Port Lockroy (it just goes to show how good the Expedition Team is at their job), but it combined everything: incredible views from the top of a snowy hill, a glacier calving, sleeping seals and penguins. For me, the polar plunge (jumping into the Antarctic ocean) was also a highlight. My traveling companions coaxed me into it and I am so glad they did.
SA: What's the best time to go?
LS: Trips run in the Antarctic summer. Apparently late January/early February is good for whales, but the team can never guarantee sightings.
SA: Anything to be aware of that one wouldn't necessarily think of?
LS: Absolutely... The Drake Passage between Argentina and Antarctica is notorious for rough crossings. We were extremely lucky that our experienced Captain navigated two calm journeys (max waves of five feet), but the crew recounted frequent trips where waves were bigger. The ship is perfectly able to manage these kinds of conditions (she was specifically built to cross the Drake Passage) and there are seasickness medications available onboard.
This is also an active trip. To get the most of it you will need to do a few walks across rough terrain and while it is hardly hiking, is not great for anyone with an infirmity. However, expedition staff are always on hand to help, so if you are a bit challenged, you will easily be able to make the most of it.
SA: So luxe but rough and humble and glorious all wrapped up in one?
LS: EXACTLY! Service was excellent throughout. Suite staff is under the careful management of Sujith Mohan, who runs a tight ship (literally). In addition to the butlers and room attendants, there is helpful and friendly reception staff, bar staff (who mix a mean G&T) and a slick restaurant team. Everyone was ready to go the extra mile, whether it was pianist Lou adding a few Christmas songs into his repertoire on request, or someone bringing out your favorite drink or snack just when you desire it. And, of course, there was the expedition team. Glacier experts, mammal experts, birders, whale researchers, historians, photographers - every one ready to share their knowledge patiently and in as much - or little - detail as you require.
Also the food was consistently good. From breakfast through lunch, afternoon tea, five o'clock tapas and on to dinner, I have no idea how the kitchen managed to provide fresh food of such a high standard without taking on extra provisions throughout the ten-day trip, but they did - kudos to chef Christian Armster and his talented team. All dietary requirements can be catered to, providing the ship has advance notice. There were one or two lunches where the vegetarian option was not immediately evident, but ask and you shall receive... Dinner provided us with four choices for four courses every evening. However, be prepared to drop your cutlery and reach for the camera - there were frequent whale sightings during dinner and the entire dining room would stand up and run to the window or up onto deck (much to the chagrin of the chef, who could be heard bemoaning one particular spotting between the starter and the main course). Silversea's all-inclusive policy means that all your drinks (including champagne!), food, mini-bar, 24 hour room service and gratuities are taken care of in the fare.
SA: What do you recommend packing?
LS: This was what I researched most before I left. Silversea provide all guests with a parka, meaning you can leave bulky jackets at home (although you might want to save some space as you can take the Silversea parka back with you). You can also rent extremely warm and comfortable rubber boots from the Ship to Shore program who deliver them direct to the Silver Explorer. These boots are fine for all expeditions.
Underneath the Silversea parka, plan on wearing thermals and a fleece layer. We had great weather and I did not really feel the cold but it can be very changeable. For one particularly chilly zodiac cruise we were advised to double up on thermals, but the expedition team will always let you know if they expect anything out of the ordinary. Also pack a pair of waterproof trousers. The zodiac landings can be wet and on occasion rough weather means waves.
Absolutely take a camera. However, it does not have to be a fancy DSLR. I saw incredible pictures taken with a simple point and shoot. If you do take a DSLR, take a zoom lens and a smaller lens (or a smaller camera) as you don't always need or want to be lugging the big one around. Don't worry if you miss a pic - the trip really engenders a feeling of camaraderie between passengers and photos are easily exchanged and swapped. Plus the whole place is so photogenic it is impossible not to get at least a few showstoppers. There are binoculars in the cabins, but you may want to take your own if you are an avid birder.
You can also leave your formal wear at home. There are two or three 'elegant' evenings but casual wear is perfectly acceptable at all other times. The atmosphere is refined but more relaxed than Silversea's regular fleet, accommodating the expedition style of the trip - after all, when you have to pack so much outdoor kit there's not really room for a tuxedo...
I have traveled to several other places that people tend to label 'once in a lifetime' but I have to say that Antarctica probably affected me the most. More than the rainforest or the cloud forest, the pyramids of Egypt or the silence of the Empty Quarter, more even than the Galapagos.
These are all incredible destinations, but Antarctica is different. There is nowhere else quite like it. "You are all now ambassadors for Antarctica," Claudia Holgate from the Expedition Team insisted to us during her final lecture on the environmental concerns surrounding the continent. And it's true. Although we barely traveled through a tiny portion of the peninsula, everyone left as a passionate advocate for preserving this last great wilderness, just as it is.
SA: Lauren thank you! What a colorful, personal summary. Now I know, I'm definitely going on an expedition to Antarctica - just give me a year or so after the baby is born to ween myself away...
*Lauren Steventon experienced this expedition in early December 2013