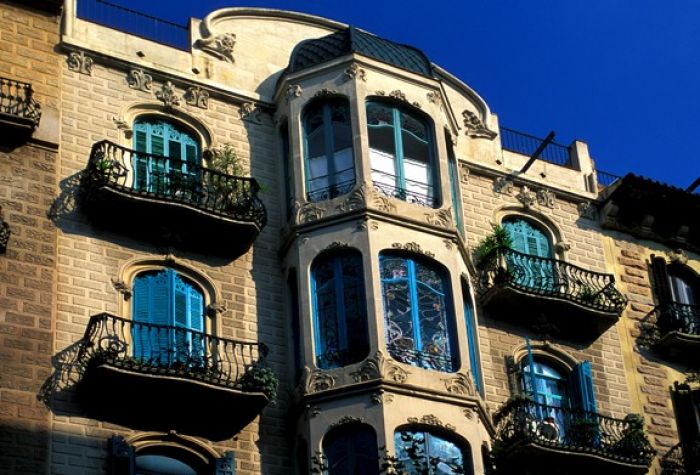 A guide to the best of luxury Barcelona
Barcelona is overflowing with options for the traveller looking for a little luxury. The city oozes style and with its wonderful climate and access to beaches is a dream for luxury seekers. Here are some top insider´s picks for where to find a little luxury in Barcelona.
Accommodation
Barcelona is one of the original luxury design hotel destinations. International names in interior design including Milan's Patricia Urquiola and London´s Kelly Hoppen have worked on hotels such as the Mandarin Oriental Murimuri, Le Méridien and the brand new W Barcelona whose distinctive sail shape now forms a part of Barcelona´s skyline.
For luxury on a budget also consider renting an apartment, as Barcelona is well known for its interior design, and there are some wonderful luxury art nouveau style apartments which can be rented out for much less than a hotel room.
Shopping
You can find all your international leading brands in Barcelona. Passeig de Gràcia is where most of the big names such as Prada, Gucci, and Armani are found, all in one strip. But let's be honest, you don´t need to come to Barcelona to find these shops, any major city will offer them.
For some really interesting local designers, try Sita Murt at 11 Passeig de Gràcia, or Lurdes Bergada or Lurdes Bergada at 112 Rambla Catalunya. These designers offer cutting edge Spanish style that cannot be found anywhere.
Restaurants
The list of good restaurants in Barcelona is endless. In recent years the hottest trend has been towards Gastrotecas. These are often Ferran Adrià inspired, and offer innovative cuisine in a relaxed bistro style atmosphere. Relaxed is what Barcelona does well. If you want starched table cloths and stern waiters hovering at your elbow, go to Paris!
Embat and Hisop are great places to try modern Catalan cuisine that are ´gastroteca´ style. For a more traditional kind of affair with stunning view of the sea and marina, try the restaurant of the Hotel Arts, which has graced the pages of many interior design books and magazines.
Fine foods
In Barcelona everyone has access to food that would be considered luxurious in London, Paris or New York. The city council funds a series of fresh food markets where local fish, meat, delicatessen products and fresh produce are on offer, and frankly, you won't find anything better at the price anywhere in the world. The most famous is the Boqueria on Las Ramblas.
Some good delicacies to take away with you are Spanish ham (spend more than 50 Euros a kilo for the good stuff, more than 100 Euros per kilo for the divine) or mojama, an air dried tuna from Andalucía with a light, salty taste that is practically impossible to find outside of Spain.

Fine Wines
Fancy stocking up your wine cellar? For fine Catalan and Spanish wines and Cavas, the fine foods section of El Corte Ingles is a good entry point. For a deeper and more informed selection of Spanish wine, try Lavinia at 605 Diagonal. They offer friendly service from people who really know their oenology, and will ship your purchases for you.
Spa and massage
If you are after some pampering and looking for a spa and massage, try Evasiom or Six Senses at the Hotel Arts.
Interior design
There are lots of good furniture shops in this style conscious capital. Some local highlights are Pilma at 403 Diagonal, and Vinçon at 96 Passeig de Gràcia, where you can find some unique pieces you won´t find anywhere else.
Port and yachts
The Marina Port Vell is where you moor your yacht and it is right at the foot of Las Ramblas. Roman Abramovich is a big fan and regular visitor. This year British investment group Salamanca has bought up the Port Vell and plans to extend it considerably, the intention is to make it a contender with Monaco. Barcelona`s status as a luxury destination will surely rise.