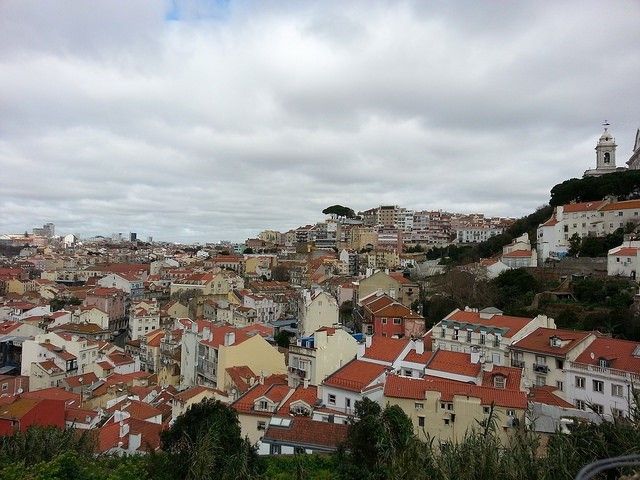 Steve Mirsky
Portugal exudes a sense of adventure thanks to its deep seated wanderlust heritage. Vasco de Gama, Ferdinand Magellan, and Henry the Navigator charted the course for modern day exploration. Now it's your turn to hit the road on your own journey of this long and narrow country where the inspiration began. Dialect, weather, and attitudes differ markedly between regions like the Douro River Valley, Lisbon (Lisboa), and the sunny Algarve to the South.
Walking Lisbon's ancient streets, hitting theFadobars, and climbing toSao Jorge Castleare must-dos. But be sure to include a side trip to another region for a few days to get acquainted with Portugal's natural beauty and wide open spaces. There are plenty of ways to get around although bus or car rental are most expedient. The following two hotels, one in the heart of historic Lisbon, the other in the middle of a Nature Preserve on the Western Algarve overlooking the Atlantic sharply contrast one another as places to hang your hat and launch some epic adventures.
Tivoli Lisboa
An elegant 5-star gem, Tivoli Lisboa is located on Avenida da Liberdade, a wide boulevard lined with trees and cobbled sidewalks extending from public square Praca Dos Restauradores up a long gradual hill to a massive roundabout with a magnificently ornate statue at the center honoring Marques de Pombal, a dictatorial prime minister best known for quickly rebuilding much of Lisbon after the devastating 1755 earthquake. Tivoli Lisboa is a quick walk from the more residential Baixa and Bairro Alto neighborhoods, a short amble down to theRosio for shopping, or an interesting hike up through the narrow streets of the city's oldest section, theAlfama,which still retains its labyrinthine Medieval street layout.
The 8 story 306 room Tivoli Lisboa that you see today was built in 1955 to meet the growing expectations of 1st class travelers. Tivoli staff continue this tradition with a steadfast dedication to impeccable hospitality that's not merely a slogan but instilled in everything from the door men who genuinely greet you to on site restaurant staff who make excellent recommendations and ensure you're satisfied. While rooms have different views and configurations, one constant is the regional artwork on display ranging from wall paintings by Portuguese painter Basalisa, João Hogan and Mily Possoz to engravings by Georges Landman.
Dining
You'll always find a seat in the Tivoli's grand lobby which is essentially a huge living room filled with plush armchairs and sofas. Two projection screens frequently show a mix of sports while theTivoli Caffè is within arm's reach where you can grab some bar bites or savor a house mixed cocktail like a "Smok'n in Havana" or an exquisite Louis Roederer Cristal Champagne until 1 A.M..
Recreating the ambiance of an authentic French brasserie, onsite Brasserie Flobrings together the best of traditional French cuisine and culture. You may luck out with a themed dinner where an accordionist serenades you while dining. On the top floor, Terraço Restaurantalong with its open air terraces and Sky Baris a destination in itself with breathtaking views of Old Town Lisbon. Equally impressive are the traditional Portuguese dishes and themed menus that periodically explore other culinary influences like Angola (a former territory of Portugal).
The Palacete, an historic mansion on the property grounds next to the heated outdoor pool surrounded by a semi-tropical garden serves as an opulent event space. Dating back to the XIX century, this former residence of the Counts of Sucena has been totally restored maintaining its character while featuring the latest technology for meetings and high profile gatherings.
Martinhal Beach Resort and Hotel
A 3.5-hour bus ride south of Lisbon, Martinhal Beach Resort & Hotel has the distinction of being the first 5-star surf destination built in Portugal. Situated on its own namesake beach within walking distance to the fishing village of Sagres, Martinhal is known as one of the best places to surf in Europe even during winter with temperatures hovering in the mid 60s. And to keep it interesting, there are also 22 beaches within a 30-minute drive of the resort.
Martinhal is decisively off the beaten path not only ensconced on its own 100 acre grounds but also Costa Vicentina Natural Park lands. More like a retreat, lodging options range from the main 37 bedroom 5-star hotel to a selection of over 150 spacious 1 to 5 bedroom Villas, many of which not only overlook the ocean but architecturally embody the landscape. You have your choice of 4 heated pools and loads of activities for when you aren't chilling out.
The best way to describe the Martinhal experience is family-friendly barefoot luxury. Families genuinely relax here spending quality time together. Kids are also on vacation and not just underfoot or tolerated. They have a place in every aspect of the resort from play areas within all on site dining venues to a baby concierge service supplying toys and equipment eliminating the worries of packing your own. Even the Finisterra Spa offers children's treatments and baby massages.
Dining
You'll be hard pressed to find a region with a fresher more diverse selection of seafood thanks to being situated on Continental Europe's Southwestern-most point wide open to the Atlantic. Os Dunas is the place to go for lunch where fresh catch of the day regularly includes Bream, Bass, Snapper, Red mullet, as well as Oysters, Mussels, Clams, Limpets and Barnacles known by locals as "Perceves".
Dinners upstairs at O Terraco continue the smorgasbord with fresh ingredients and simple preparations like fish grilled with salt & olive oil and seafood cooked with seawater, coriander, garlic and white wine. Prawns are tossed in olive oil and local "piri piri" (chili) oil with garlic. Their stuffed squid is also a must-try. Even with meat and vegetarian dishes, they are locavore all the way including locally made ice-cream.
Photos courtesy of Steve Mirsky. Coverage made possible by participating in a partially sponsored visit.
Steve Mirsky
Stuffed Squid at O Terraco Martinhal Beach Resort & Hotel
Steve Mirsky
Lisbon Scene
Steve Mirsky
Martinhal Beach Resort & Hotel
Steve Mirsky
Beach Rooms at Martinhal Beach Resort & Hotel
Steve Mirsky
Os Dunas at Martinhal Beach Resort & Hotel
Steve Mirsky
Inside Tivoli Lisboa
Steve Mirsky
Inside Tivoli Lisboa
Steve Mirsky
Vegetarian Lasagne at Brasserie Flo
Steve Mirsky
A Great Way to Celebrate Happy Hour at Tivoli Lisboa