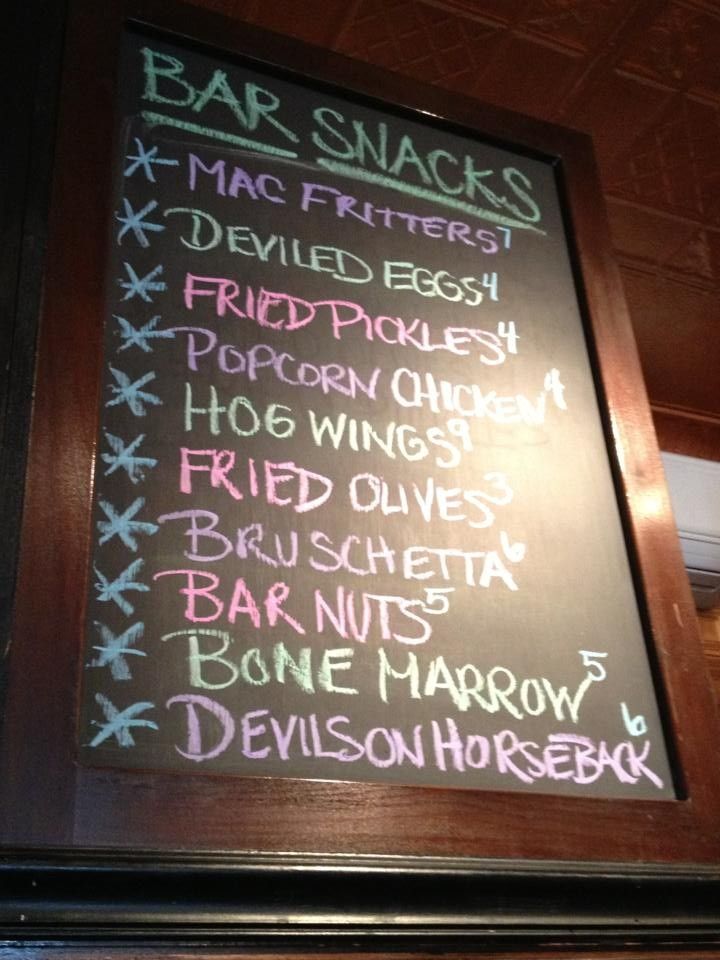 The Biltmore Bar & Grille
Hog wings, fried fluffernutter and Prohibition? Yep, that's just what The Biltmore Bar & Grille is all about in Newton Upper Falls located about 20 minutes west of Boston.
When the restaurant opened in 1921 at the start of Prohibition, it was a quiet speakeasy. Today, creative cocktails, a kitschy atmosphere (complete with gas pumping station) and a hearty dinner menu with a southern flair are what you will find at this suburban neighborhood pub.
There is an impressive beer menu here that includes everything from Belgian brews to Russian Imperial Stouts and an inventive food menu that ranges from bone marrow with walnut honey to bacon to short rib croquettes. If you don't mind a lively atmosphere (read noisy), grab a seat on the fun bar side with pressed tin ceilings, but for quieter conversations, there is an adjacent main dining room complete with salvaged farmhouse tables and cozy booths.
We got started with a sampling of the evening's special (and addictive) mac and cheese fritter appetizer made with fiery Tabasco sauce. The crispy hog wings were, in one word, amazing. A plate of mini pork shanks arrived with a side of blue cheese dressing for dipping. If you have never had pork shanks, this is one dish you just can't miss. Another standout appetizer is the crispy Denver lamb ribs served with a flavorful side of mint pesto.
On the evening we visited, the special entrée of the night was the Bolognese, a delicious bowl of pasta tossed with a tangy sauce made with beef, veal and pork. The 16-ounce pork porterhouse steak was a nice fall addition to the menu topped with rosemary brown butter and served with a side of spicy kale, heavenly garlic red bliss mashed potatoes. Other entrees on Chef David Nevins' menu include steak frites, grilled Atlantic salmon, a BBQ platter and, our favorite, handmade soft pillows of gnocchi filled with creamy ricotta and butternut squash puree topped with sage brown butter. (Nevins, who is the culinary director of the Neighborhood Restaurant Group, works closely with John Dewar's butcher shop in Newton for the restaurant's organic charcuterie, poultry and grass fed meats and Pat Woodbury's oyster farm on Cape Cod for some of the best local New England flavors).
Desserts here are a must. From carrot cake and rocky road pie to fried fluffernutter (yes, this is as good as you remember it) and chocolate Nutella bread pudding, the sweet endings are as fun and creative as the main events.
The Biltmore Bar & Grille is located at 1205 Chestnut Street in Newton, Mass. For more information, call (617) 527-2550 or visit www.thebiltmoregrill.com.
The Biltmore Bar & Grille
The Biltmore Bar & Grille
The Biltmore Bar & Grille