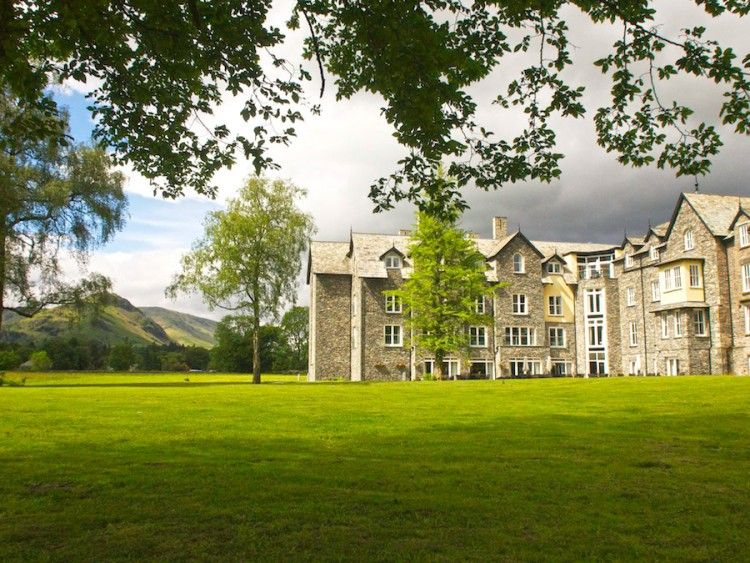 Columbia Hillen
Perhaps it's only natural that a hotel located in the heart of England's scenic Lake District should be named after the area's most famous poet's most famous poem - William Wordsworth's ode to the eponymous flower.
Opened two years ago, the 78-room, three-floor, 4-star Daffodil Hotel & Spa lies within a short walking distance of the sleepy rural village of Grasmere where the national poet laureate lived for most of his life. In fact, the Romantic poet's 'Dove Cottage' home on the edge of the village stands directly across the road.
Located on an open, grassy area off a winding country road beside a lake, with rambling walkways along its banks, it offers stunning views over Loughrigg, Red Bank and the Vale of Grasmere, a patchwork of picturesque mountains and hills. A tar-macadam area in front of the hotel, which is owned and run by the Harwood and Brady families, provides ample space for parking.
From the outside, the Daffodil – first opened as a hotel in 1855 - blends in perfectly with its rural surroundings, its granite stonewalls matching the traditional, century-old buildings nearby. Step inside, however, and the ambiance is completely different - a modern hotel in a bright, uplifting contemporary design, with a black grand piano in the lobby and the first in a series of creative, light-hearted framed wall drawings, with quirky titles to match, a tribute to the driving force behind the hotel - the late Tom Harwood, who wanted "a building full of laughter and jokes where people could relax and enjoy themselves."
The artwork includes 'Mrs. Dali Hanging Out the Washing' with melted clocks on the line; 'Mrs. Gaughin's Tupperware Party,' depicting topless Tahitian women seated pertly on a sofa examining items on a table before them; 'Mrs. Klimt Sews a Patchwork Quilt' depicting the Austrian artist's famous painting 'The Kiss' in a most unusual manner; and 'Mrs. Seurat Adjusts the TV.' Other satirical pencil sketches by artist Sue Macartney-Snape reflecting the quintessential comedy of daily life hang on different floors featuring caricatures of people in everyday poses: snoozing by an open fireside or attending a regatta or horserace.
A more current one, entitled 'The Pessimist,' depicts an overly-excited elderly man sitting on an armchair, 'The Daily Telegraph' newspaper opened on his lap beaming headlines such as 'Bankers make billions despite collapsing economy' and 'No agreement on global warming.' The hotel's mascot is Barbara the sheep, which appears in the most unlikely of places.
Our suite, overlooking a lake at the rear of the property, was of a contemporary design with a mix of neutral tones, ochre and gold. Furnishings included a speckled gray and black sofa; a series of small, black lacquered tables; and a padded funky-shaped armchair resembling a heart. The bathroom was large, housing twin wash-hand basins, a bathtub and a walk-in shower. Toiletries are Molton Brown. Clothes' space was ample, with twin floor-to-ceiling cupboards and a three-drawer dressing table with facing wall and hand mirrors.
The hotel's restaurant is spacious, with several open rooms adjoining each other and an open bar at one end. An interesting design feature is a series of photos and portraits of comic performers adorning the walls, including Hugh Laurie, the limping doctor from the popular TV series 'House'; classic English 'cloth-capped' comedian Norman Wisdom;' and Peter Sellers, well-known for his role as 'The Pink Panther.'
Under the guidance of head chef, Nick Martin, local produce features highly in the hotel's menu, with smoked salmon or kippers sourced from the coast, as well as the traditional 'full English' of sausage, bacon and eggs. For the more health conscious, there's the continental version with homemade granola and fresh fruit. Dinner features dishes such as pan-fried haunch steak venison from Holker Hall near Morecambe Bay in Lancashire; roasted cannon of local Cumbria lamb; and grilled sirloin steaks of Cumbrian beef.
Next to the restaurant is a spacious sitting room, festooned with soft sofas in black and gold. Along its walls are framed book covers including those of well-known authors Evelyn Waugh, H.G. Wells, Graham Greene and Virginia Woolf, as well as the many editions of the classic work, ' Vanity Fair,' by William Thackeray and others under the Ladybird, Puffin and Penguin imprints. Games such as Monopoly, draughts, Snakes and Ladders, chess as well as coloring books and crayons are available for guests' enjoyment.
The hotel's spacious, multi-room Germaine De Capuccini Spa is located in the basement of the building and comprises a sauna, steam-room, Jacuzzi that fits 10 or more people and a 10-meter thermal pool with a variety of water jets. Facials, massages and exfoliating wraps take place in a separate room. We chose the 'Lakeside Surrender' and the 'Waterside Escape' options. After a consultation on what aromatherapy oils to be used, the former starts with a body massage. Warm towels are then applied from head to toe followed by a classic spa facial. The latter starts with a 'candlelight back massage,' the wax gently poured over the body and massaged in to release the lavender and mandarin oil aromas. The treatment is completed with a 'royal jelly elixir facial,' using an anti-ageing Kobido massage.
In terms of activities, there is much to do in the immediate area, including diverse hiking trails in the rolling hills. One popular walking destination is to Easedale Tarn (lake), about three miles from the hotel. If seeking culture, a visit to Rydal Mount and Gardens, Wordsworth's home for many years, is worthwhile. Lying between the villages of Ambleside and Grasmere, it commands glorious views of Lake Windermere, Rydal Water and the surrounding fells and it was here he published the final version of his most famous poem 'Daffodils.' Also, nestled on a corner in Grasmere near St. Oswald's Church lie the graves of the poet and his family. You can even sponsor an engraved slate-slab, which is placed on the path of the Wordsworth Daffodil Garden nearby between the River Rothay and the churchyard.
For a property with a strong history located in the heart of the English Lake District, the Daffodil Hotel & Spa offers efficient and warm service, wonderful spa facilities and easy access to both cultural and outdoor pursuits. Find out more here http://www.daffodilhotel.co.uk
Columbia Hillen
Columbia Hillen
Columbia Hillen
Columbia Hillen
Columbia Hillen
Columbia Hillen
Columbia Hillen
Columbia Hillen
Columbia Hillen