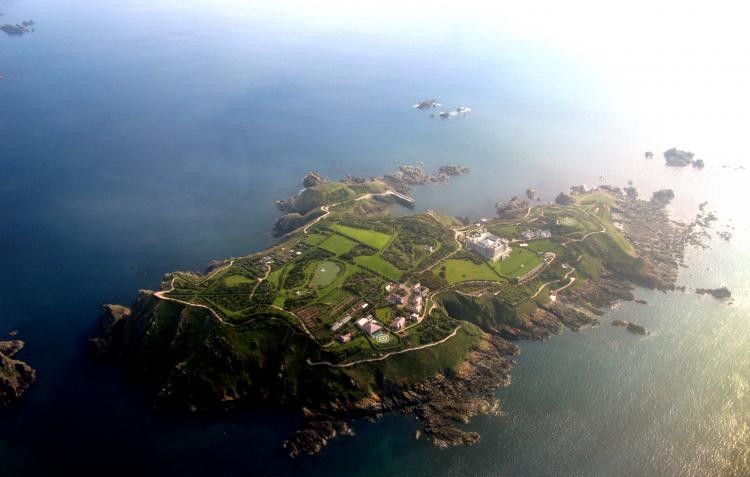 This stunning island is owned by the Barclay Brothers, twins who live a very reclusive life and are renowned for their ownership of The Ritz Hotel London and the Telegraph group of publications amongst other business ventures including shipping and famous retail outlets. †In 1993 they bought Brecqhou Island one of the British Channel islands for £2.3m, since the purchase they spent a further £90m on the development of the island which includes a beautiful castle. Fort Brecqhou is said to be the largest newly built home that weíve seen in Britain for the past 200 years. †So who are the Barclay Twins? And what does this mysterious property have to Offer?

The Barclay Twins
Both identical twins Sir David and Sir Frederick Barclay were born in 1934. They are self made billionaires and are from a large family of 10 siblings. From a poor background they set up a painting and decorating business and from that started to establish a property portfolio. Itís reported that David once took his mother to the Ritz hotel and told her he would own the hotel one day, indeed he now does. The Barclay Twins live a very private life and try to stay out of the public eye, interestingly they have built this fortress on their own remote island.

Brecqhou Island
Unlike many other billionaires the brothers didnít opt for an island in the Caribbean or Bahamas, instead they †have chosen to establish themselves in a far colder climate on one of the Channel islands were the winters can get particularly cold. The island itself has been a subject of much controversy and when buying the island the brothers didnít realise they would be subject to the laws of neighbouring island Sark. The fact that there is no income tax on the isle of Sark is a benefit but other more peculiar laws such as no cars still apply to Brecqhou island and this currently prevents the brothers from racing their sports cars around their own land. Unfortunately the very private Barclay twins who obviously bought this island to establish their own privacy have so far received a lot of attention. They are currently partitioning to become a country in their own right but without much success.

The island itself has been beautifully landscaped, there is a lake, two helicopter pads, various mansions and a vineyard not forgetting the main residence Brecqhou Castle. Many politicians and other successful businessman are rumoured to visit the island and the island is patrolled by armoured security guards at all times.

Brecqhou Castle
Reported to be the largest residence built in the past 200 years it truly does look magnificent. Built in the style of a traditional gothic castle it is clad in granite, has turrets a moat and quite imposingly a 100ft perimeter wall. †Apparently the castle walls are 3ft thick so this is certainly made to last and will probably still remain present for thousands of years. It also has two swimming pools a 80m Banqueting room with a gold leaf ceiling. A Library which has hand painted walls in the style of the Sistine Chapel and itís own nuclear bunker. If you have ever wished to make a statement that will stand the test of time then what better way to mark your place in history then to buy an island and building your very own castle!
Mark writes for Arts Digital Era a website that explores issues faced by artists and how digital art is becoming more prominent in the art world.
http://www.thesundaytimes.co.u
The Barclay Twins
http://www.theweek.co.uk
Brecqhou Castle