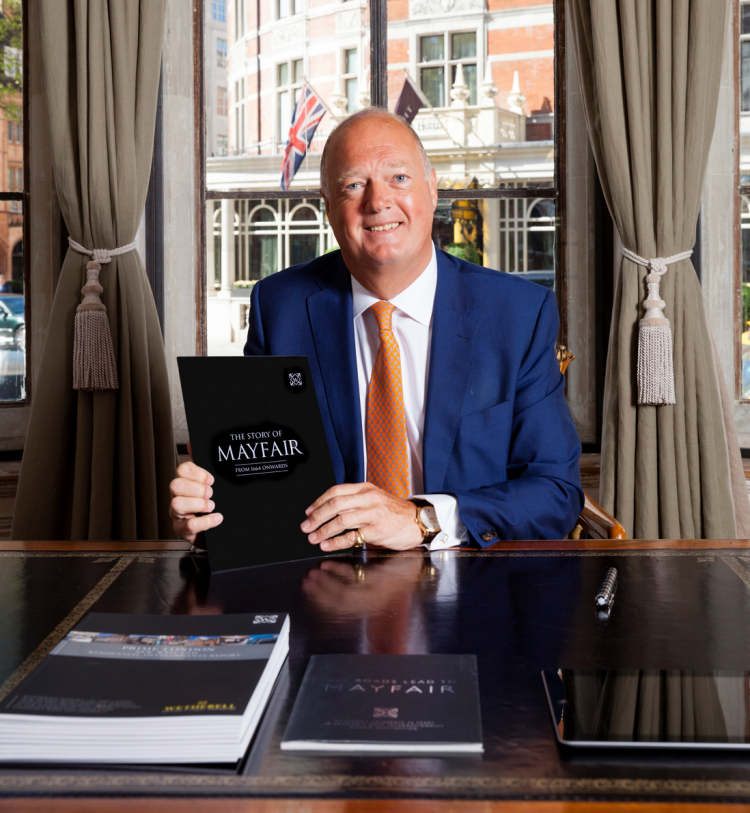 The book
Mayfair expert and author Peter Wetherell has launched a new book "The Story of Mayfair".
In this narrative of Mayfair's history, Peter Wetherell has divided the book into seven key step changes, periods of huge social, financial change, influenced by global political shifts, with my favourite – the final chapter reviewing the future of Mayfair up to 2030.
This fascinating book includes rare photos of a young Queen Elizabeth II and her sister Princess Margaret playing in the garden of their Piccadilly town house overlooking Green Park.
The future
About 10 years ago Wetherell announced that residential property was then more valuable than office space for the first time in years.
By 2030 the residential population will have increased even more in Mayfair, bringing vitality to the area, especially on the weekends.
There is now a huge residential development pipeline of over 400 new homes, worth over £840 million, which will be built in Mayfair over the next 5 – 15 years. Already values have exceeded £5,000 per sqft and within the next 5 – 10 years Wetherell calculate that residential property values will reach £10,000 per sqft. Already the entry level price for the smallest Mayfair home is now £1 million.
The real game changer, though, is Crossrail – the £14.8 billion infrastructure project that will bring an extra 1.5 million people within 45 minutes of the West End on its completion in 2018.
Crossrail, the relocation of Embassies and government buildings to Nine Elms, freeing up space for more homes, and the ongoing conversion of offices to residential are all helping towards Mayfair reclaiming its crown – lost since 1945 – as London's most expensive and top address.
The district's ancient landowners have been joined by a new generation of landowners and developers and together they are transforming Mayfair with new luxury retail outlets, hotels, leisure facilities and homes. This is the future of Mayfair and as the book outlines, it's extremely exciting.
I read the book for free here: http://bit.ly/mayfairbook
Wetherell.co.uk
Wetherell.co.uk