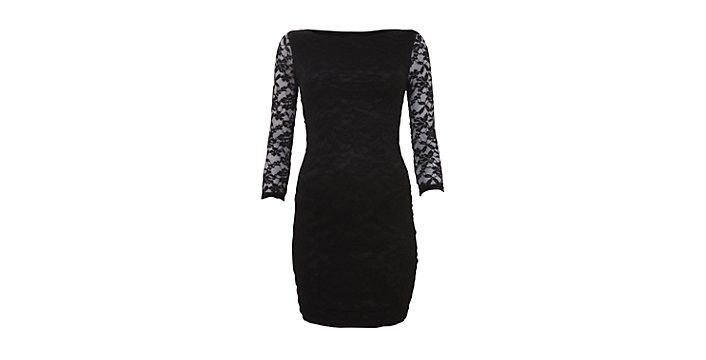 Have you ever wondered where fashion's biggest trends started? Little black dresses now hang on the rails of both high-street and designer stores, from
 AX Paris
 to Dior, but where did this iconic wardrobe essential originate? Let's find out:
If there was ever one garment that every woman should own, it's the little black dress. Black dresses were of course worn for decades before they first became ubiquitous in 1920s, but until then had been strictly reserved for mourning. In 1926 American Vogue published a design by Coco Chanel; the dress was a short, simple black dress. The feature predicted that this combination of black fabric and elegant shaping would become a uniform for glamorous women for decades to come. They named it 'Chanel's Ford' referring to the fact that it could be reproduced and enjoyed by women of all social classes. Chanel's LBD designs were created to be long-lasting, affordable and appealing to the masses - hence the neutral colour choice.
During the Great Depression, the popularity of the LBD continued; known for its economical yet dainty appearance, though the hemline was lengthened to suit the time. Little Black Dresses became a staple of Hollywood wardrobes, helping in the filmmaking process as other colours would look distorted on screen and complicate the colouring process.
Post-war, the black dress returned to its uniform roots, becoming a symbol of power and danger with the rise of Dior's 'New Look'. The Femme Fatales of the movies were depicted in black sexy halter-neck dresses, in stark contrast to the prim and proper housewife characters. By the 1960s many designers were striving to produce simple black dresses similar to that worn by Audrey Hepburn in 'Breakfast at Tiffany's' - probably the most iconic little black dress of all time. Though the 1960s also saw the mod generation take the LBD as their own, wanting extremely short skirts with cut-outs and slits.
For the next decade the little black dress was an everyday item, but the 1980s saw the LBD come back in vogue with a new approach; using knits, casual fabrics and elements of the fitness trend - like broad shoulders and peplums. The 1990s saw grunge take over, and here the little black dress became all about the full skirt and the contrast of masculine accessories like combat boots!
The late 2000's again brought the little black dress to public attention, hand in hand with the new sexy bodycon fit which hugs to the body revealing every curve. Now more than ever the little black dress is a brilliant way to have a simple sex appeal that lets the dress and the figure to the talking - with little need for accessories. Today the LBD has regained some length with the most popular design in a midi-length pencil cut which offers sophistication and simplicity. Lace panels or sleeves are another interesting modern LBD detail.
New Look are a retailer of value fashion apparel, the second largest womenswear retailer in the UK, with over 1,000 stores worldwide. New Look stock a brilliant range of AX Paris dresses.
10
10
10
10