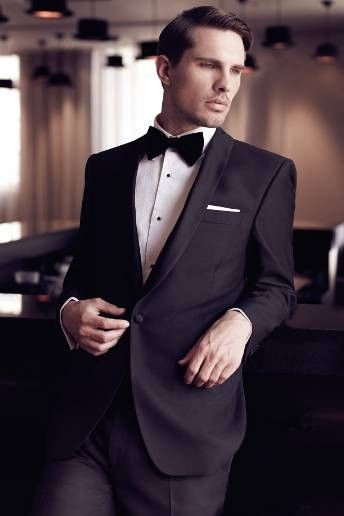 When you hear the words 'it's a black tie event' or 'wear a tuxedo', do you instantly feel 100 times worse about agreeing to go to that wedding or charity dinner? There is no need to. Every man can look every bit as suave as Daniel Craig in a tuxedo or dressed head to toe in black tie, it's just a case of knowing how to pull it off. Here's our guide to wearing men's formal wear, and wear it well.

The Classic Tuxedo
The classic tux is traditionally black, and worn with a white shirt, but there are many other more daring colour options to be played with. What sets the tux aside from the typical formal suit is the woollen woven fabric, the peak or notch lapels made from satin to contrast, and the luxurious satin buttons.
The shirt is equally as important, and is not just your basic white shirt. It is usually a high quality cotton blend, with a textured front panel (commonly pleats) which can be seen beneath the jacket.
The cummerbund (satin belt-like piece of material that goes around the stomach), bow tie and patent black leather court shoes (also known as opera shoes, they have no laces) are essential accessories for finishing off the classic tuxedo look.
The Evening Suit
If a suit is to be worn to the same event where people are likely to be dressed to the nines in high quality tuxedos and formal evening attire, this suit is going to need to be a cut above your typical business suit. It's going to need to be on a par with all the rest, quality, style and all. It does take a lot to pull off an evening suit, but when done properly, this look is a definite attention grabber.
The jacquard silk pattern suit is a cut above all other suits, and makes a statement that you are confident and classy without following the herd. Match it with a high quality but simple shirt and of course not forgetting the cummerbund and bow tie to keep it formal and suave.
To top it off, an evening wool backed scarf and some black patent leather lace up evening shoes, and you are set to turn heads with this cool and confident look.