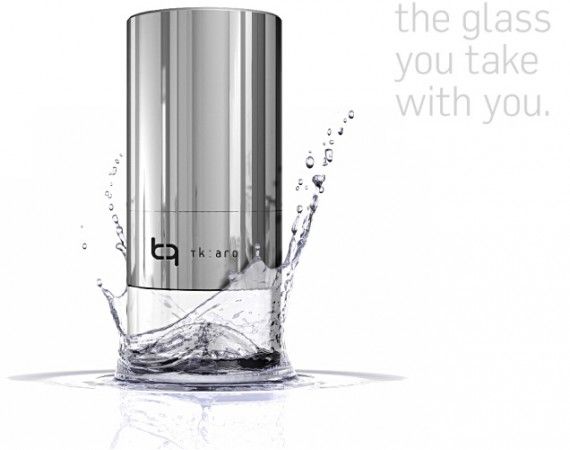 Tkaro.com
Press Release
February 23, 2012
Los Angeles, CA
Tkaro, the glass you take with you, in GBK swag bags at The 2012 Academy Awards.
Tkaro, the glass you take with you. An award winning, environmentally friendly, personal use glass and stainless steel bottle, is beinggifted in the GBK Celebrity Gift Lounge Feb 24 and 25, in honor of the 2012 Oscar Nominees and Presenters.
Stunning in appearance, contemporary in design and the perfect accessory for the home, office and car, Tkaro is the winner of the coveted reddot design award for product design, 2010, the largest and most renowned design competition worldwide.
Tkaro is a unique personal, promotional and corporate gift for the health conscious, environmentally aware and/or the aficionado of contemporary design. It's pureness of form and material allow the contents of the glass to be visible, assuring no residue and resulting in a continuously clean taste and smell; ideal characteristics of a vessel from which to drink!
Retail, private branding and distribution of Tkaro is currently available across the globe.
Tkaro Inc.
Contemporary design firm Tkaro Inc is the award winning collaboration of Toronto based entrepreneurs Kai Fejer and Taylor Russell. A forward thinking firm, Tkaro plays role to the design and sale of products that make a conscious departure from plastics - as a rule - opting instead to inspire glass and stainless steel in non-traditional ways.
The duo launched reusable, recyclable and transportable Tkaro glass bottle in 2010.
The red dot design award
The red dot design award is the largest and most renowned design competition worldwide. It consists of individual disciplines "red dot award: product design", "red dot award: communication design", and "red dot award: design concept". In 2010 the competition, with head offices in Essen, Germany, the red dot recorded approximately 12,000 entries from more than 60 nations. Tkaro joins previous recipients of the red dot design award including Audi, Adidas, Nokia, LG, Mercedes Benz, Tupperware, Phillips, Sony, Siemens, Dyson, BMW and Apple.
GBK Productions Inc.
GBK Productions is a Marketing, Public Relations, Fundraising and Special Events company dedicated to providing high quality, tailor-made service to its individual clients. GBK is known for integrating the Entertainment, Luxury Consumer Products and Non-Profit industries to create unique and memorable high-profile experiences that maximize its clients' brand-building efforts.
GBK Celebrity Gift Lounge
February 24. 25, 2012
W Hollywood
6250 Hollywood Blvd.
Hollywood, CA 90028
For further information please visit the following websites:
"www.tkaro.com"
and
"www.red-dot.de/press"
and
"www.gbkproductions.com"
Press contacts:
Ms. Kai Fejér
Co-Founder and C.E.O.
Tkaro Inc.
Phone: 416 546-2454
E-mail: kfejer@tkaro.com
www.tkaro.com
or
Ms. Justine Otto
Press and Public Relations
red dot design award
Phone: +49 (0)201-30104-35
E-mail: otto@red-dot.de
www.red-dot.de