Tiba + Marl
Prior to becoming a parent, I thought the expression 'maternity style' must be an oxymoron. It seemed to me that, with a newborn baby, injecting any glamour or pizzazz into an outfit was simply beyond the fringes of possibility for the foreseeable future. Even the term 'diaper bag' is downright unattractive. Happily, I have been disabused of my formerly held preconceptions.
I am now a mother to two gorgeous girls, who are two-and-a-half and four months. For a while, I resisted buying a designated diaper bag - for two reasons. First, because, as mentioned above, I associated them with ugliness. Second, I was reluctant to purchase something with such a specific and transient purpose. My eldest was already out of diapers when my youngest arrived, so, I told myself, there was little point in buying a bag that would be used for two years, tops.
My stance changed when I encountered the brand Tiba + Marl. I had spotted another mum in the gym at the Hurlingham Club with a gorgeous black backpack, and asked her about it. She told me that it was, in fact, her son's diaper bag, which she had repurposed as her gym tote. I was intrigued. I had come to the realisation, soon after giving birth to my second daughter, that a hands-free approach to toting my possessions around was now essential. With a very active toddler, and a finite capacity in the undercarriage of my stroller, a backpack was the only solution. I perused the Tiba + Marl website and found a trove of stylish, capacious bags, which, crucially, had a slew of purpose-built compartments. I decided to order an ELWOOD backpack, the brand's bestselling model, which is as elegant as it is practical. There are a variety of different colourways, but I chose the T + M X Selfridges design, which featuressleek gold accented hardware for an ultra-lux look.
The bag is made from tumbled black faux leather (which is extremely realistic), blending durability with luxurious appearance, as the bag is both waterproof and wipe clean. Tiba + Marl was the brainchild of friends Anna Tizard (a former bag buyer for Topshop and Urban Outfitters), and Lydia Barron (formerly a footwear and accessories designer for Kurt Geiger and Sigerson Morrison). The experienced duo evidently put a great deal of thought into making the backpack as user-friendly as possible. There is a luxury padded changing mat, an insulated bottle holder, smart phone pocket, and two large elasticated pockets, perfect for wipes and nappies. Another excellent design feature is the removable wet clutch/cross body bag, which I have used as my primary purse on occasions when I haven't needed the whole backpack. It is eminently comfortable to carry, as well, even on days when it is full to the brim of baby gear, because the lower back panel is well padded, as are the shoulder straps, which feature metal adjustors. I really like the attention to detail, such as the metal feet, and the inclusion of a dust bag for handy storage. It is roomy enough to fit most laptops, and can therefore be used as a work, gym or carry-on bag once the baby years are over.
The ELWOOD is an absolute pleasure to use, and it is little wonder that it a firm favourite with celebrities such as Russell Brand, Fearne Cotton and Vogue Williams. Its practicality and versatility has made me revise my former dim view of diaper bags completely and I am wholeheartedly recommending the ELWOOD to all of my friends with babies – and even those without!
Tiba + Marl ELWOOD backpack: $178 / £140, Tiba + Marl
www.tibaandmarl.com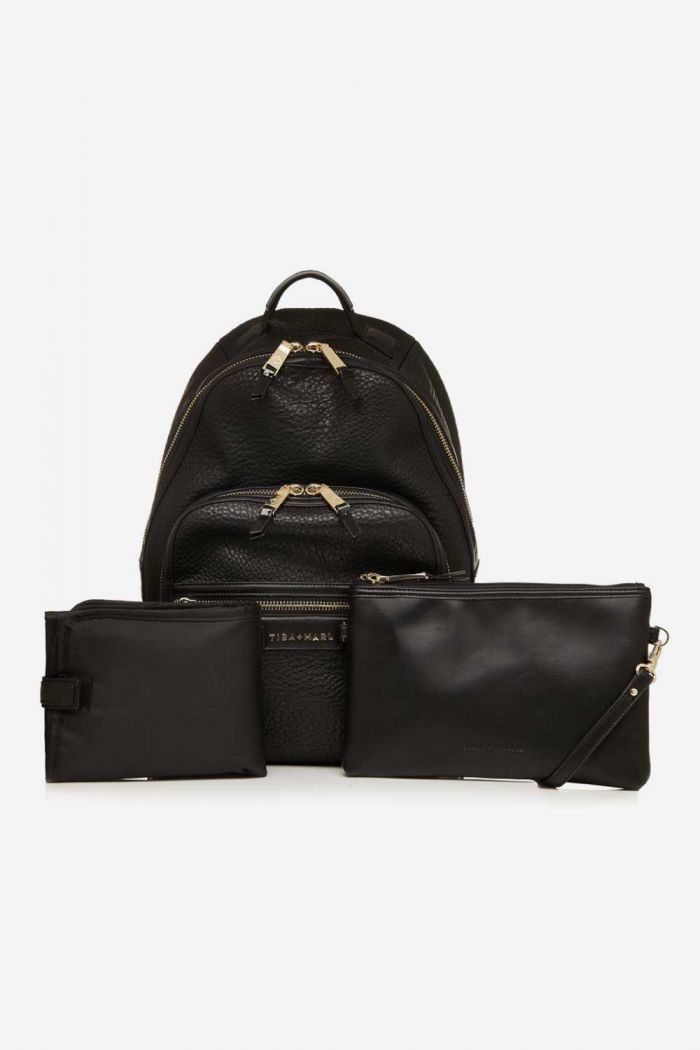 Tiba + Marl
The ELWOOD comes with a changing mat and a removable wet clutch/cross body bag.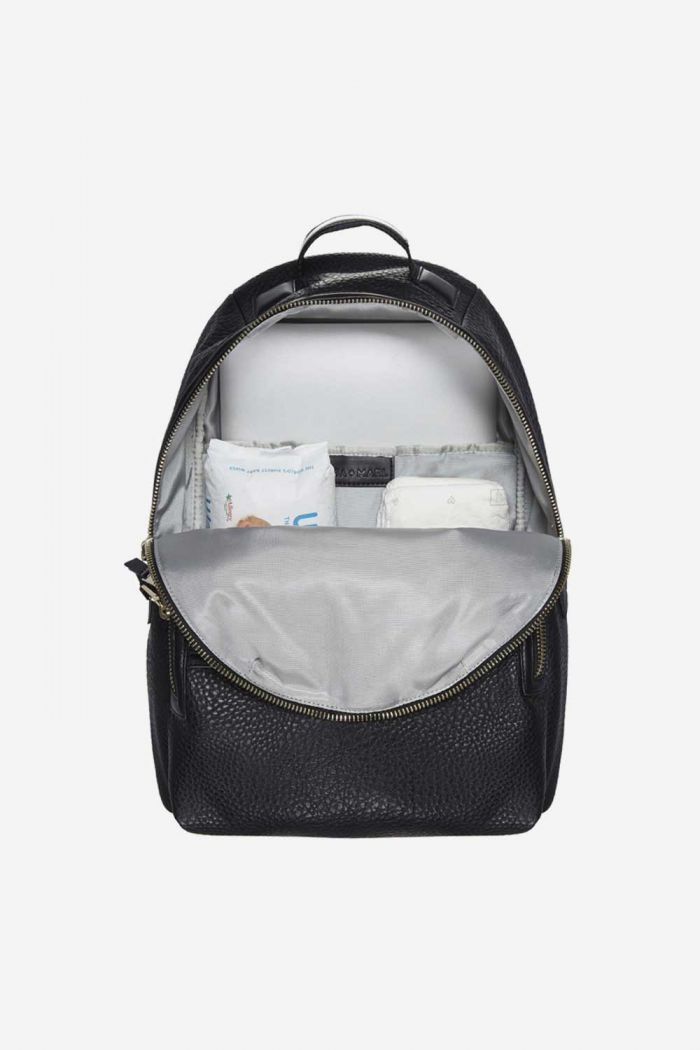 Tiba + Marl
The ELWOOD boasts two large internal elasticated pockets, perfect for wipes and nappies.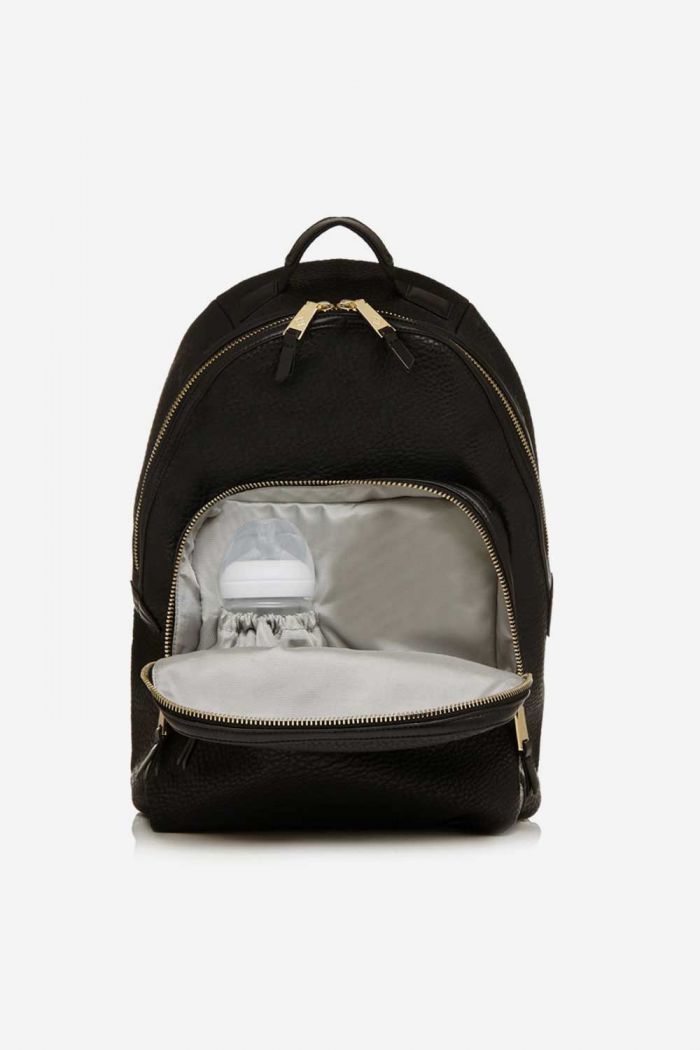 Tiba + Marl
The ELWOOD features an insulated bottle holder.
Tiba + Marl
D-rings (sold separately) can be used to attach the ELWWOD to stroller clips.