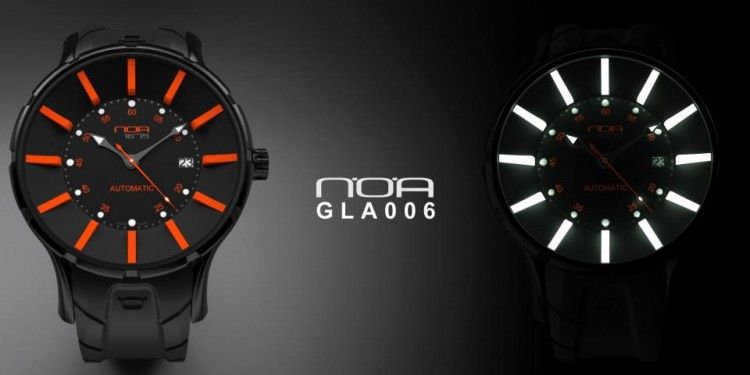 N.O.A. Watches Switzerland
"The new kid on the watch block"
OK, maybe not so new, but not many have had the chance to appreciate the great watches and accessories that this brand has come up with. Since its establishment in 2003, N.O.A. (which is an acronym for None of The Above) has been making timepieces that challenge tradition in many ways and flatter it in many others. Their products feature a new take on contemporary design, elevating classic styles to achieve eclectic items that are visually seductive and extremely comfortable to wear.
An underdog for a while, N.O.A. attempts to revolutionize the watch industry with its genuine philosophy and its unusual combination of materials and colors featured in its collections.
Basel 2012 was the stage that allowed the brand to introduce its newest additions to the N.O.A. family, many of which are already available worldwide and enjoying plenty of demand by those who look for something outside of the box at the right price, without sacrificing Swiss craftsmanship.
Models like the GL 006 are likely to become a favorite among contemporary adults looking for a timepiece that, unlike higher-end watchmakers, are friendly to their pockets while offering a clear expression of high quality and outstanding design. This is a 44mm case with black IPB treatment timepiece, powered by an automatic Swiss ETA movement, featuring orange-colored indexes made out of Superluminova powder, thus providing an intense glow in the dark effect.
Another bold model is the Black Iris, available in 6 different neon color combinations in 40mm cases. These Swiss ETA Quartz pieces offer practicality and a fun approach to more casual personalities.
Ultimately, a personal favorite is the 16.75 G-Gold plated watch; a feminine yet aggressive design, that represents the epitome of fabulous. This one is proposed in both 36mm and 44mm. The round indexes in the flat dial enhance the 3D signature design of N.O.A. in a way that it calls for people's eyes…Including mine.
There is no way this brand slips under the radar for much longer. After all, luxury is a matter of attitude and N.O.A. has a lot of that to offer.
In N.O.A.'s words… "Don't waste your time". 
N.O.A. Watches Switzerland
BLACK IRIS by N.O.A.
16.75 Gold Plated