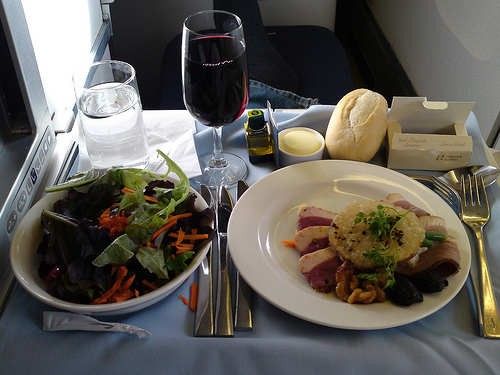 flickr/kalleboo
You are a professional; you work long hours, you spend countless hours on your feet walking to and fro, you give presentations, and attend countless meetings and press conferences, represent your company, meet new people…you do so much on-the-go that any long lull in between should be cherished. This kind of time often comes in the form of hours-long flights in between countries and continents, one of the things that does come across every businessman's to-do list, and since continent-hopping does take a toll on anyone's physical being, it helps immensely that an airline has stellar business-class accommodations.

Foremost among the benefits of a business class accommodation is that it is more comfortable, and offers more amenities than economy-class accommodation, and is much cheaper than first-class. In particularly long flights, a tired business may be able to recline his seat and relax for the rest of his journey, or for the more work-dedicated types, actually be able to continue working while on the plane.

Business class passengers are seated at more luxurious waiting areas and are seated sooner than economy class passengers. Business class passengers are also privy to better food and entertainment options, and drinks are usually served free of charge, and some airlines offer internet access. Since you will be having a lot more extra space, and a bit of free internet to boot, why not get a bit of your work done before landing?

Seats

Depending on the airline, business class seats vary in their recline angles, from 140 to 180 degrees; the three types of seats that do come in business class areas are as follows:

Cradle Seats- these seats recline for up to 160 degrees

Angled seats- recline angle from 140 to 170 degrees

Flatbed Seats - a full 180 degree recline that renders the seat parallel to the floor; a kind of makeshift bed that a passenger can lie down on.

Food

Airplane Food, now, has always been cause for complain for any cross-continental air-traveler, and you can't really blame all the guilty airlines outright, for they would only be concerned with filling the passengers' hungry bellies with something or anything at the very least to be concerned at all about quality.

Business class accommodations offer a better alternative, and better food. You can receive menus at the very beginning of the flight and pick whatever you want to eat for the rest of the flight. You won't be eating foie gras, but you will definitely be far better off than the unfortunate souls eating microwaveable noodles in the economy-class.

Entertainment

Business class seats usually have more entertainment options; in cheaper airlines, this means your seat is much closer to the large screen, or that you have a screen of your very own. In other airlines, you have more audio and video amenities, and you can request a portable DVD player, or there are a myriad of screening options for you to shuffle through. You will also be able to plug in your laptop, and have more space to work, watch or play more vigorous onscreen games without having to ever feel cramped or that you are invading someone's personal space (and that your own isn't being invaded as well!).

Finally, being in business class, you are also among the first to be allowed to leave, therefore being among the first in line to customs and the baggage counter. This is a definite boon on your part, as it can be very exhausting, traipsing several different time zones on a constant basis, and not having to wait long lines and spend nary an hour staring at lumps of baggage on a conveyor belt will not exact its till on your physical stress.

Keep these benefits in mind when traveling next time; it is well worth the cost, and you will feel more relaxed, more invigorated, more prepared before you land, suffer less fatigue and stress than if your were lodged in the cramped economy class and enjoy several of fist-class benefits without having to pay as much. High class travel doesn't necessarily always mean high cost!